Medium size CATs, frecuency and Industry impact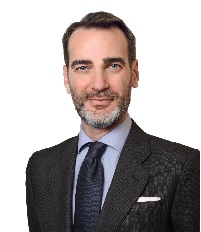 Javier San Basilio, Chief Underwriting Officer of MAPFRE RE
He holds a degree in law from the University San Pablo CEU. He joined MAPFRE RE in November 1992. He immediately took on the position of Deputy Regional Manager at the Representative Office of MAPFRE RE in Manila (1996-1999) and was Underwriting Manager of the MAPFRE Reinsurance branch in London (1999-2003).
Subsequently, he was Executive Vice Chairman of MAPFRE Reinsurance Corporation in the U.S. (2003-2007) and Analysis and Market Manager of MAPFRE Internacional (2007-2009). In 2009, he became manager of the MAPFRE RE branch in London, and he was appointed Regional Director for Europe in 2016.
In September 2020 he was named Chief Underwriting Officer of MAPFRE RE, his current position.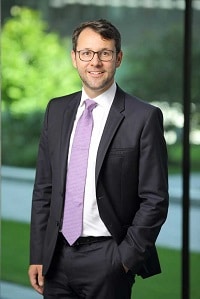 Tim Jehnichen, Tim Jehnichen, Executive Chairman of Munich Re, Spanish Branch
He holds an economics degree from the University of Lancaster and an MBA in insurance from the University of Leipzig. In addition, he is a Chartered Financial Analyst.
Tim Jehnichen started working at Munich Re in 2002 in the Life and Health area and subsequently developed his career in leadership roles such as Head of Treaty Pricing for Italy, France and Latin America in Munich; director of Products & Pricing in London and Head of Life Reinsurance for Scandinavia, Austria, Central and Eastern Europe, Italy and the Middle East. Since February 2018 he has been at the helm of the group's Brexit program, and he has been chairman of the Munich RE branch in Madrid since 2019.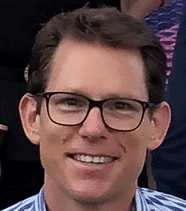 Beat Kramer, Managing Director of Swiss Re
Beat holds a PhD in molecular biotechnology from ETH Zurich.
He is currently Managing Director at Swiss Re, based in Zurich, and he is responsible for the Property Treaty UW in the EMEA region since March 2021.
Beat started his career at Swiss Re in 2005 as a tool developer, while also working on Swiss Re's first pandemic model during the bird flu scare. He became a Property Treaty UW in the Globals and International Business space in 2008. In 2012 Beat started to look after exposure accumulations across all lines of business: from Nat Cat to terror and liability catastrophes.
As a newly appointed desk head for the EMEA Globals, Beat got his baptism of wind and water in the 2017 Harvey / Irma / Maria hurricane season.
How is the business insurance market evolving in the Spanish market and what is the role of brokers?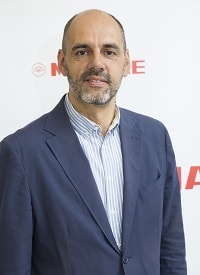 Santiago Martín, Deputy General Manager of MAPFRE Spain
He holds a degree in law and a master's in legal practice from the Comillas Pontifical University. He also has an MBA from the University of Alcalá. He has been chairman of the Spanish Pool for Environmental Risks since 2014.
In addition, he is a member of the Board of Directors of the Agrupación RC Corredores and the Permanent Business Committee of UNESPA.
He previously held the position of Technical Deputy General Manager at MAPFRE España. He has been Deputy General Manager of this company since January 2021. In addition to his technical responsibilities, in this role he is in charge of business development in Major Brokers (main channel in this field) and the development of the Global Business of MAPFRE España, in coordination with MAPFRE Global Risks.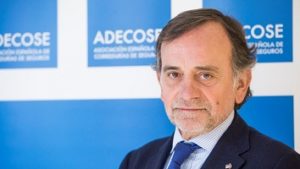 Martín Navaz, Chairman of ADECOSE
Martín Navaz is an industrial engineer with a degree from ETSEI Barcelona. He completed the IESE Executive Management Program at IESE, and he is a licensed insurance broker.
He held the position of Director for Catalonia at La Estrella Seguros, is one of the founding partners of Grupo CONFIDE and has been CEO of Confide Correduría de Seguros y Reaseguros SA since 2017.
In 2005 he became the chairman of ADECOSE. In addition, he is a member of BIPAR and has been a Member of the Insurance Advisory Council of the DGSFyP since 2018.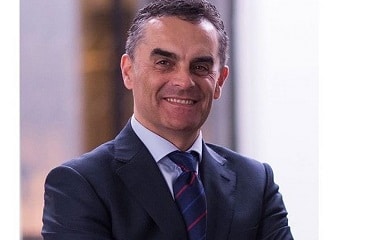 Juan Carlos López Porcel, Chairman of AGERS
He holds a degree in law, and an International Executive MBA.
Juan Carlos began his career in the steel company ENSIDESA (Spain), where he completed a development program working in the areas of operations, finance and sales, finally reaching the discipline of Risk and Insurance.
During his 30 years of experience, he participated in various merger and acquisitions processes in the steel sector (Aceralia in Spain, Arcelor in Europe and finally ArcelorMittal with a multinational perspective, where he currently holds the position of Risk and Insurance Director for Southern Europe).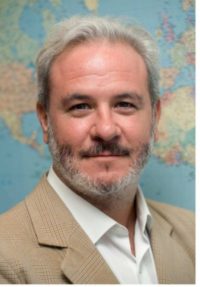 Daniel San Millán, Chairman of IGREA
He holds a degree in law from the Universidad Complutense de Madrid, a master's degree in financial and tax law from the Centro de Estudios Tributarios and is an insurance intermediary with a degree from the Dirección General de Seguros.
He has worked exclusively in the insurance industry. Among other positions, he was Construction Accounts director at Aon Corporate Business from 1994 to 2004 until he joined Grupo Ferrovial, where he has held the position of Corporate Risk Manager ever since.
In 2009 he founded IGREA, the association which he has chaired to date.
Major Risks in Latin America, a vision of the present and the future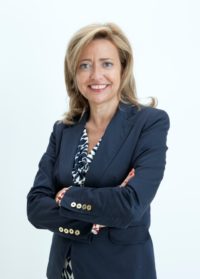 Paola Serrano, Chief Regional Officer LatAm and International MAPFRE Global Risks
She holds a degree and doctorate in economics and business sciences from the Comillas Pontifical University. She joined MAPFRE INDUSTRIAL as Line Manager in 2001. In 2005, she was appointed Director of the Aviation and Space Business Area.
Following this, she was Director of Aviation and Transport in MAPFRE's Global Risks Unit. She represented MAPFRE in the 5th edition of the Promociona Project, an initiative organized by the Confederation of Employers and Industries of Spain that aims to strengthen and develop the professional and leadership abilities and skills of highly qualified women. She currently serves as the Chief Regions and Markets Officer for LATAM and International.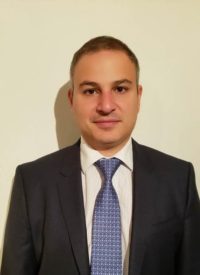 Adolfo Carstens, Insurance Manager CMPC
Industrial engineer from the University of Buenos Aires (Argentina).
He was VP of Insurance at Engie Latin America from 2006 to September 2019, and since then he has held the position of Corporate Insurance Manager at Empresas CMPC.
Focused on major corporate insurance programs such as Property Damage & Business Interruption, Third-Party Liability and Marine Cargo, in addition to programs for construction projects and the coordination and resolution of major claims.
Mariana Pizá, Global Insurance Director ORBIA
She holds a degree in administration with a specialization in finance from the Instituto Tecnológico Autónomo de México (1996-2000). She also has a diploma in management & business administration from IAPE Business School (2016-2017).
Mariana was Vice President/ Senior Property & Energy Underwriter Latin America at Swiss Re from 2007 to 2012. She subsequently joined Aeroméxico, where she held the positions of VP Risk Manager & Insurance (2012-2016) and SVP Risk Manager & Insurance (2016-2017).
Since 2017, she has been Corporate Insurance Director at ORBIA, a Mexican company specialized in polymers, materials and infrastructure that has operations in 41 countries and commercial activities in over 100 countries.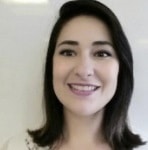 Suzana Borges e Oliveira, Insurance & Warranty Director at LATAM Airlines Group
She is an international relations graduate and holds a postgraduate degree in business management, in addition to an MBA in international business. She joined the Aviation Fuel area of LATAM Airlines Group – Brazil in 2011. Following the LAN & TAM merger in 2012, she was invited to move to Chile and joined the Fleet team (leasing, purchase and sale of Aircraft and Motors).
In 2018, she was finally appointed director of LATAM's Insurance and Warranty area.
MAPFRE Global Risks Talks: Lessons learned after the cyber-attack on MAPFRE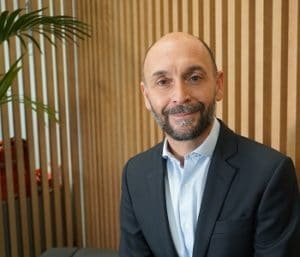 Bosco Francoy, CEO MAPFRE Global Risks
He holds a degree in business administration and a higher diploma in insurance science (Pontifical University of Salamanca)
He has been a member of the MAPFRE Global Risks Board of Directors since January 2016 and of the MAPFRE Global Business Committee since January 2017.
Previously, he was the Chief Operating Officer (COO) of MAPFRE Global Risks (January 2016 to December 2018); Regional Director for Latin America and General Practitioners Underwriting Manager of MAPFRE RE (January to December 2015), CEO and Chairman of MAPFRE RE DO BRASIL (January 2009 to December 2014); CEO of MAPFRE RE ARGENTINA (January to December 2014); Administrator of ITSEMAP DO BRASIL (August 2008 to July 2014); and General Manager of the Representative Office of MAPFRE RE in Chile (November 2003 to December 2008).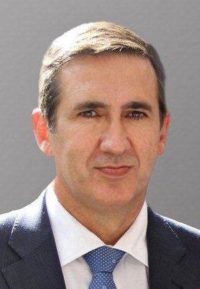 Guillermo Llorente, Deputy General Manager for Security and the Environment at MAPFRE
He graduated from the General Military Academy of the Spanish Army and has a master's in occupational risk prevention from IMF Business School. Furthermore, he is a university specialist in private security oversight and management from the University of Francisco de Vitoria.
Since April 2011, he has been Deputy General Manager of Security and Environment at MAPFRE, and he was appointed chairman of the Security Network Technical Advisory Committee in 2014.
In addition, he is a member of the Fundación Borredá Board of Trustees Advisory Committee, an independent member of the Spanish Association for the Advancement of Information Security (ISMS) management board and a member of the information Systems Audit and Control Association (ISACA) Advisory Committee.
Acerinox international insurance programme presentation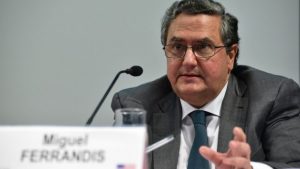 Miguel Ferrandis, CFO ACERINOX
Degree in Law and Diploma in Business Consultancy from ICADE (Comillas Pontifical University).
Miguel Ferrandis has spent his entire professional career in the Acerinox Group, first as a Lawyer, deputy to the General Secretary (1989-1991), then as Head of the Legal Department (1991-1995) and later as Deputy Finance Director, responsible for Investor Relations (1995-2000).
Since 2000, Miguel Ferrandis has been Chief Financial Officer (CFO) of the Acerinox Group, and is also a member of the Senior Management Committee and a member of the Board of Directors of several of the Group's main companies: North American Stainless, Acerinox Europa S.A.U., Roldan, S.A. (Madrid), and Inoxcenter, S.A. (Barcelona).
Welcome to the XXVII International Seminar Global Risks of MAPFRE
Medium size CATs, frecuency and Industry impact
How is the business insurance market evolving in the Spanish market and what is the role of brokers?
Major risks in Latin America, a vision of the present and the future
MAPFRE Global Risks Talks: Lessons learned after the cyber – attack on MAPFRE