We are sharing an article by El Periódico de la Energía based on the annual report Global Wind Market Development – Supply Side Data 2018, according to which 20,641 wind turbines were installed around the world in 2018 with a capacity of 50,617 MW. The report revealed that more than half of the 15 leading manufacturers of wind turbines (eight) are Chinese.
According to this document, Vestas held the title as the world's largest turbine supplier in 2018, due to its wide geographic diversification strategy and strong performance in the Americas. Goldwind moved up one position to second place after its domestic market share in Spain increased by 5.1% in 2018. Siemens Gamesa fell one position to third place, primarily due to lower installation in the UK, Germany, and India in 2018.
The report shows that the geared wind turbine systems remain the preferred choice of wind turbine technology. The market share of conventional high speed geared systems and medium speed turbines increased to 69.7% and 3.7%, respectively, in 2018, while the market share of direct drive wind turbine dropped nearly 2% to 26.6%, primarily due to the reduction of wind turbines installed by Germany's Enercon in 2018. The top suppliers in each of the three technology categories (high-speed geared drive, medium speed geared drive, and direct drive) in 2018 were Vestas, Mingyang, and Goldwind respectively.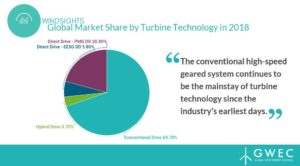 Ben Backwell, CEO of GWEC, said: "The fact that tier one suppliers gained greater market share in a year when the new installation declined by 3% reinforces that leading global suppliers' hard work, focusing on product innovation and value-added solutions has finally paid off. While there are 8 Chinese manufacturers included in the top 15, the picture changes dramatically when sales in the domestic Chinese market are excluded. Aside from Goldwind, none of the Chinese suppliers installed sufficient new wind capacity in the overseas market for any to be included in the top 10 ranking in 2018."
Feng Zhao, Strategy Director of GWEC, said: "In 2018 we saw further consolidation taking place on the supply side. The severe competition resulting from the transition from Feed-in-Tariff to auctions pushed another seven small turbine OEMs out of the market last year. This trend is likely to continue in China – although there are 19 local turbine OEMs active in this country, the upcoming auction and the central government's goal to reach grid parity in the early 2020s will certainly force many small and medium-sized Chinese turbine vendors to give up their wind turbine production activities."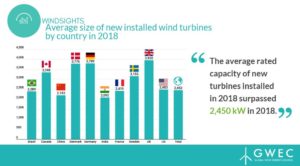 GE Renewable Energy retained fourth place by taking advantage of stronger performance in the US market, where it recaptured the title as the No.1 supplier. Envision replaced Enercon in fifth place, mainly due to its strong growth in China and the sharp drop of installations in Enercon's domestic German market in 2018.
Chinese suppliers Mingyang, United Power, and Sewind moved up to seventh, ninth, and tenth, respectively, which can be largely attributed to stable performances in their home markets. Suzlon dropped out of the top 10 turbine supplier ranking in 2018, primarily a result of reduced installations, by up to one third, in its home market of India
Senvion fell three positions to 12th place, with new installations in Germany in 2018 halving compared to the previous year. Chinese suppliers CSIC Haizhuang and XEMC remained in the top 15, however both of them lost market share in 2018.