"The strength of Brazilian companies and the quality of their professionals guarantee the future of Brazil to some extent," underscored Luis Gutiérrez, CEO of MAPFRE INSURANCE IN BRAZIL, in the interview he gave within the framework of the International Global Risks Workshop
Luis Gutiérrez, CEO of MAPFRE Insurance in Brazil, moderated the roundtable discussion "The Brazilian Market," which boasted participation from Guilherme Brochmann, Director of Risk Management for DHL LATAM, Rogéiro Coura, Insurance, Receivables, and Collections at BRASKEM, and Christian N. Mendoça, Insurance and Risk Manager for Brazil and South America at Norsk Hydro.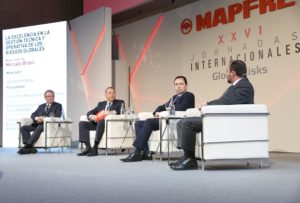 The executives discussed issues such as the role of insurance companies as partners of risk management companies, the characteristics of the market, and the potential of Brazilian companies.
In this video interview, Gutiérrez shares his views on the roundtable discussion he moderated and on the International Workshop.