The identification of risk factors to which companies are exposed and the opportunities to mitigate them was the focus of the presentation given by Almir Costa, director of Industrial Risk for GRUPO SEGURADOR BANCO DO BRASIL E MAPFRE during the event sponsored by the Spanish Chamber of Commerce in São Paulo.
MAPFRE Brasil experience in the risks mitigation
Considering MAPFRE BRAZIL's experience with risk mitigation, the objective of the meeting was to contribute to the exchange of experiences and to spread the best practices in management.
In the presentation given by Almir Costa to the business community, MAPFRE BRAZIL addressed the various risks to which businesses are exposed and the importance of accident prevention, emphasizing the financial impact of losses for organizations.
Brazil represents one of the most promising markets for the development of the insurance sector. In light of the financial, political, social, climatic, and technological volatility across the country, losses are increasingly more significant and need to be mitigated.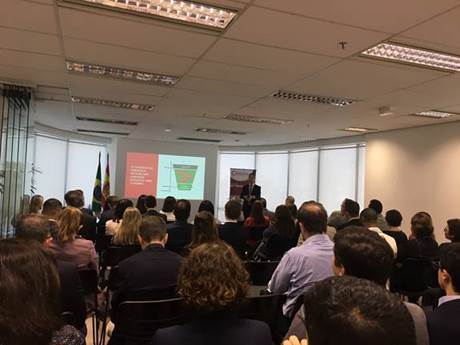 "In 2016, the insurance market potential (the total of the actual market and the insurance protection gap) in Brazil was R7.9 billion, 2.4 times the total insurance market in the country that year," states Almir Costa, the company's director of Industrial Risk and Assurance.
The insurance protection gap is influenced by factors such as the insurance culture, demography, economic development, new consumption models, and legislation – factors that merit their own research report, given the significant challenges they bring to the development of global insurance programs.
"Brazilian legislation expects that, just like paid premiums, local risks should be covered by local policies except in the case of foreseen exceptions in specific situations," explains Costa.
The challenge for the insurer consists in maintaining technical and legal criteria, guaranteeing that consumer rights are observed, ensuring sustainable operations, and the health and coverage of their insurance portfolio.
To efficiently serve clients, the company set up "Global Insurance Programs," a set of policies that guarantees activity in different countries. The idea is to transform the company in Brazil from being an issuer to being a producer, so that it does not only issue policies, but rather it locally owns responsibility for its management.
The solution is still new to the country, which is why investment in the insurance culture is required, not only so that initiatives like this one are recognized, but also so that an inventory of modern insurance contracts is possible, adapted to a globalized world and serving the current needs of policy holders in Brazil.
"It's possible to move forward when we really understand what the client does, what his or her risks are, and what the market is like. This is the market trend in Brazil, which has an increasing demand for customized products and personalized attention tailored to different client needs," Costa concludes.