Between June 13th and 15th, the Latin American Natural Resources Conference, hosted by Willis Towers Watson, took place in Cartagena de Indias, Colombia. A high-level event that brought together more than 120 professionals, including risk managers from major Latin American industrial companies (oil companies, miners, construction companies, etc.), as well as directors from the main insurers and reinsurers operating in the region.
The objective of the meeting was to explore how Latin American Natural Resources companies manage energy transition risks within the ESG framework.
Colombian President Iván Duque opened the conference by setting out the country's achievements in Energy Transition and for which WTW recognized his efforts, management and leadership in this field.
Furthermore, he raised the environmental agenda of the Change to Zero to become carbon neutral in 2050, highlighted the country's ability to host green businesses and argued that, in order to achieve environmental protection, the use of technology is essential, advocating for the term "susTECHnability."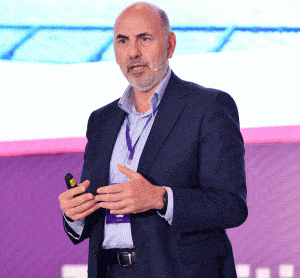 This edition was attended by César López, Deputy Director of Energy at MAPFRE GLOBAL RISKS, who explained the company's commitment to the environment and MAPFRE's Sustainability Plan for the 2022-2024 period.
Throughout his presentation, he shared the foundations on which MAPFRE supports a sustainable underwriting model that translates into the following lines of action:
Expanding an ESG underwriting analysis model. Our objective: to achieve 90% of operations analyzed using ESG criteria by 2022.
Not insure any new projects related to tar sands mining or transportation.
Not insure new offshore/onshore projects in the Arctic for gas or oil extraction and transportation.
Not insure coal, gas and oil companies that do not commit to a credible energy transition plan.
Contribute to reducing the protection gap by increasing our support via natural catastrophe reinsurance in developing countries, and by seeking opportunities for cooperation in public-private initiatives.
With regard to the challenges faced by the insurance industry, and more specifically the Oil and Gas business, which César manages, he highlighted that, in strict compliance with the public commitments made by Antonio Huertas, Chairman of MAPFRE, there is an opportunity to help the energy transformation of insured parties affected by these restrictions. We support this transformation with cutting-edge technical advice provided by the Engineering Area. Unsurprisingly, MAPFRE GLOBAL RISKS offers its clients all the technical knowledge on clean technologies, such as Renewable Energies, acquired over several decades and constantly updated.