The first centralized event in the Galician insurance market featured a panel of experts consisting of Bosco Francoy (CEO of MAPFRE Global Risks) and Lourdes Freiría (Grupo San José). For its part, JEALSA applied the finishing touch.
Last Tuesday, October 10th, MAPFRE and MAPFRE Global Risks joined forces to bring together Risk Managers, Brokers and Clients in the manor house of San Lorenzo, in Santiago de Compostela. This event took a deep dive into the current situation of the insurance market along with around 50 guests, all of whom were linked to the insurance world.
First, Miguel Ángel Talabante Rubio, Territorial Director of MAPFRE Galicia, welcomed the attendees with a brief speech and gave way to the panel of experts moderated by Luis Gutiérrez Mateo, General Manager of MAPFRE Northwest. Bosco Francoy, CEO of MAPFRE Global Risks, and Lourdes Freiría, General Director of Risks and Insurance of the San José Group participated in this talk.
At the roundtable, Bosco Francoy opened the presentation with a brief personal contextualization – since he celebrates 29 years at MAPFRE – and MAPFRE Global Risks: "MAPFRE Global Risks provides insurance solutions for a typology of High Risk clients, whether due to their revenue, the activity they perform or the existence of a Multinational Program. We act with the technical knowledge that supports MAPFRE companies in several countries, from Underwriting to Claims."
For her part, Lourdes Freiría wanted to highlight that, although the main activity of Galician Grupo San José is Construction, it is also dedicated to Energy, Concessions, and even sportswear. With their activity, they are approaching billions in revenue. Freiría has been with the company since 1996, and she has a legal profile. However, a line has slowly been created that acted as an insurance department, and she ended up being promoted to a corporate, global and cross-sectional rank. Our job is to participate in the development of a risk map to know what risks we need to consider in making decisions and doing our business."
The market, according to the insurer and the insurance company
The moderator, Luis Gutiérrez, started the roundtable of exchanging perspectives by asking vague questions about the current situation of the market, its evolution in recent years and the lack of capacity that insurers have had to face, "being something against nature," he said.
"Fortunately, market capital has been able to absorb that loss"
To answer, Bosco Francoy discussed what happened recently. "We have been experiencing a progressive softening of the market, i.e., overcapacity produces greater competition and this allows for adjustments to conditions and prices that have led us to the present moment." He cited historic milestones such as 9/11 or New Orleans' Hurricane Katrina, which affected insurers' capacity. "Fortunately, market capital has been able to absorb that loss." And he continued: "The published reports show that we have six years of permanent price increases, but not always as intensely across all sectors or everywhere uniformly."
Regarding the short-medium term, he says that "the reinsurer market is one of the keys that gives us the indications, it has performed very well, despite having had some natural disasters, such as the earthquake in Turkey at the beginning of the year." Everything points to the price increases that we have experienced in 2023 being much more moderate in this renewal for next year and depending on what 2024 looks like; you can see that it was maintenance. And if the year is another good one, a new softened market may start."
For her part, Lourdes Freiría, from the perspective of the insured party, alluded to some hardening of the conditions in the Construction sector. "Risk is analyzed and studied more, you have to invest much more in explaining risk and the company being familiar with it. Knowing that claims are of intensity—aware that it has to be a good product, but not cheap—the problem we had was that many insurers had withdrawn from the risk and what the insurer perceives is the most absolute helplessness."
The role of the mediator
Luis Gutiérrez actively moderated interventions and asked several questions regarding the Broker figure: "What do you need from the Broker? Do you notice proper professionalization? What do you need from mediation?"
"I do not conceive the Risk Management in San José without the figure of the specialized broker"
Freiría was very direct in her presentation. In her opinion, there are few professionals in the Broker world. "There are fewer than we need. We believe the broker is critical. I do not conceive the Risk Management in San José without the figure of the specialized broker. And I would ask of you what I ask from them: trust, specialization, professionalism and agility." She also proposed that an aspect to be improved be that more empathy be incorporated into the market in general and specified: "Empathy with the Risk Manager because he/she is often the sole partner with the Broker and the Market and, because of that lack of empathy, we sometimes have a terrible time."
Francoy, representing the insurer, felt that he has made an effort, but there is a long way to go in terms of communication, "to make us understand better." And he adds: "This is a people-oriented business. We care about the person we talk to because it gives us the confidence, but also the organization that supports it. We are concerned that the organization behind us has the ability to respond if something is not going well. And that happens. What better than working with an insured party who is interested in their own risk. That's why, for us, the value of the risk manager is vital."
The Golden Minute
Before finishing the expert panel, Luis Gutiérrez asked for a concentrated message in the final minute. For her part, Freiría again claimed professional confidence to achieve lasting relationships, despite the difficult times that occur in the insurance world. "We have been working with MAPFRE Global Risks since 2003; this has led to strains at times, not excessive, but these stable relationships are gained by working hard and well. If the partners on both sides, including the company, are professionals, it is a guarantee that better results, protection and, almost certainly, better costs will be achieved. And this makes us meet the ultimate goal: to manage risk well, protect the bottom line, and convey security."
Bosco Francoy's turn ended with an emphasis on MAPFRE Global Risks' vocation to build long-term relationships. "Although we have clients who go back 40 years, it doesn't mean that relationships are static." Whether the market was tough or soft, "MAPFRE has always been, perhaps it has had to restrict underwriting on some lines, but not with those who were already there. With them we have maintained the link, that is what motivates us."
JEALSA: Rising from the ashes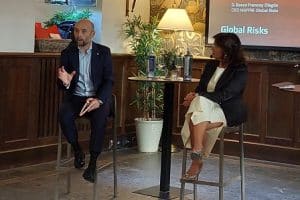 The height of the event came from Jesús Manuel Alonso, current President of JEALSA, who shared his experience during the May 7, 2021 fire, which put the activity of the cannery at risk. He described, in detail, the helplessness he felt when the three-day fire swept everything away: "At the time things were bleak, so I ordered that everything in the warehouse be removed. Above all, documentation, important papers… The rest is in the cloud. And I went to my office ten minutes. I was seeing that we were losing everything. It was a distressing time. And in the end, I cried. I grabbed my children's and my father's photographs, dried my eyes and came out."
"Sales fell 1%. I still don't know how"
In a very emotional speech, he defended at all times the importance of good risk management at the company and remembered the words of Ramón, the Risk Manager who led MAPFRE. "'Relax, Suso, you have a great company behind you.' Those are words you never forget. I hope to live for a long time to pay you back enough, and that it was a good thing you insured us."
To start, they created three workgroups. "We did a review of how things were going; we proposed opening that factory in less than a month. The biggest problem was serving our customers." Jesús recalls that he suggested that they try to keep sales from falling more than 15% to avoid losing market share. "All of our customers welcomed us and all of them continue to buy from us. Sales fell 1%. I still don't know how."
Prior to finishing his speech, he concluded: "This is my memory of a tremendous time, which one hopes will not happen again. After seven months, we made €94 million. We did a good job, but we had a very good company behind us and learned the importance of a Risk Manager. It used to be that your house burned down and you were ruined, and today that isn't the case. Blessed insurance!"