Technology has turned the world as we knew it on its head, and one of the sectors where its effects have been felt the most is commerce. Mariangela Marseglia has been a privileged witness to this transformation, spending nearly 10 years at Amazon, one of the most significant and disruptive companies in the game today. Trained in financial management, she has spent her career closely linked to the technical branch. Since spring of 2018, she has been the head of the company's business in Spain and Italy.
Distinguished as one of the women who has contributed most to the technology sector, she talks to us about the immense possibilities of e-Commerce and Amazon's commitment to innovation and the environment.
1. You were chosen by STEM as one of the fifty women who have contributed most to the world of technology. Could you talk to us briefly about which of your contributions were valued most in earning this recognition?
It was an honor for me to be selected, but the most important thing isn't that I'm on the list for leading Amazon's business in Spain and Italy. What is relevant is that incentives like this one provide visibility to female talent in technology and STEM careers. One of the challenges that we face as a society, and in which companies are increasingly more involved, is in achieving diversity and inclusion in our organizations. Promoting female talent in technical careers is unfinished business that we at Amazon are dedicating a great deal of effort to through a variety of incentives and grants. For example, we participate in Technovation, a program that introduces young people between the ages of 10 and 18 to technology and entrepreneurship. This year, over 90 colleagues from Spain have taken part as mentors and judges.
The lack of female role models to encourage girls to choose scientific and/or technological careers continues to be a significant stumbling block. That's why initiatives like this one are important and necessary to highlight female talent in the sector. If the fact that they chose me to be on the list inspires just one girl to study a STEM degree, it will have been worth it.
2. In 2018, Amazon's AWS infrastructures were backed by 50% renewable energy, and three new wind energy projects have just been announced in Ireland, Sweden and the United States. What is the company's goal in this area, and what challenges do you foresee in accomplishing them?
At Amazon, we are firmly committed to sustainability and the environment, and therefore we've implemented energy and environmental best practices programs at all our sites. We have developed the Easy To Open Certificate for our packages, enabling us to be more respectful, using minimal packaging, and we have installed solar panels on the rooftops of our logistics centers and stations. Additionally, in 2015, we signed the 'American Business Act On Climate Pledge' together with another 150 companies. This is a White House incentive to fight climate change. Our goal is that by 2030, 50% of our deliveries will be emissions-free. At AWS, we are committed to wind and solar energy to reach 100% renewable energy consumption in our infrastructure operations.
3. Amazon has an R&D center in Barcelona specializing in Machine Learning and Big Data. What aspects of their applications is research focused on?
That's right. Barcelona is the third European city in which the company has installed a Machine Learning team, following Berlin and Cambridge, working to identify patterns and models automatically based on extensive databases in order to make predictions with great accuracy. The ability to predict customer demands, translating product information and automatic voice recognition are just a few examples of how machine learning will make it possible to offer lower prices, a greater selection and an enhanced user experience.
Barcelona is not the only R&D center we have in Spain. In 2016, Amazon chose Madrid to establish its Software Development Center (Tech Hub) for southern Europe. Today we have 270 professionals between the two centers, and we hope to attract many more. We've recently announced the hiring of 200 people before the close of 2020 to work on technology related to Kindle and books in general. Spain is becoming a benchmark and focus for attracting international talent.
Many of our customers' favorite products and services were developed in Europe. For example, Alexa found its voice thanks to the teams in Poland, and learned to answer questions with the help of teams from the United Kingdom. Or automatic translation services, which enable vendors from any country to export to the world, were invented and developed in Germany. Amazon has a long-term commitment to investing in innovation in Europe.
"e-Commerce in Spain is growing greatly and quickly, although it is still a small market compared to other countries"
4. In your opinion, how are major business sectors adapting to the new sales and transactional models offered by technological evolution and e-Commerce?
e-Commerce in Spain is growing greatly and quickly, although it is still a small market compared to other countries. According to recent data from the CNMC, in 2018, it reached €40 billion, with the travel agency and air transportation sectors generating the most revenue. Focusing on global retail, Spain represents 6% of total commerce, a figure that is still far from other European countries (the United Kingdom, for example, represents 14%). That only means that there are still many opportunities despite the rapid growth.
And we're not just talking about large companies. e-Commerce is also an opportunity for entrepreneurs and for SMEs. Over 8,000 Spanish SMEs from all sectors sell on Amazon, and 75% of them sell to other countries. In 2018 alone, exports were valued at €400 million, representing 50% growth. e-Commerce is a great opportunity to export, as it can be done easily without a major initial investment and without needing teams or a physical presence in the destination countries.
5. From your point of view, what are the major trends and technologies that will pave the way in the future for large companies?
At Amazon, we work with cutting-edge technologies in applications such as Machine Learning, robotics and voice-activated services. However, I believe that one of mankind's greatest accomplishments has been removing physical, cultural and economic barriers through technology. Today, everyone, not just the elite, has access to real-time information, and can learn about distant cultures, find inspiration, learn new skills, etc. Entrepreneurs of all sizes, big and small, can find new ways of conducting business beyond their own city or country. Technology will also be key to making our socioeconomic progress sustainable for our planet and for the entire global population, not just for the developed world. That will require a great deal of ingenuity and a new, more cooperative way of doing things, involving the public and private sectors, corporations and startups, academics, civil society, etc. We must work together and innovate, doing what we know how to do best. We will be smarter and faster at overcoming the great challenges that mankind will face.
Mariangela Marseglia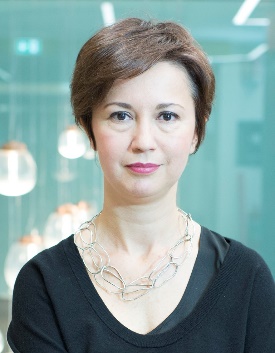 has a bachelor's degree in Economics and Management from the Università Cattolica del Sacro Cuore in Milan. She worked for over ten years in consulting, marketing and business development at multinational firms such as Price Waterhouse Coopers, Unilever and Mars Inc. She joined Amazon in 2010, where she held a number of leadership positions at the company, most recently as director of Prime Now, the ultra-fast one- or two-hour delivery service for Amazon Prime customers. She has been the Country Manager for Amazon.es and Amazon.it since 2018.
Mariangela is married to Stefania, with whom she has a son, Leonardo, who just turned one. She loves to read, especially Nordic and American authors. Some of her favorite books are Stoner by J. E. Williams and American Pastoral by Philip Roth. She also likes the science fiction works of Isaac Asimov and Philip K. Dick. She is an avid photographer, and some of her works have been published. She enjoys gardening, which she does on her terrace on the weekend.