The CEO of MAPFRE Global Risks was interviewed by the Apólice magazine, making the most of an event with Brokers organized with MAPFRE Brazil. The conversation not only dealt with the current situation, but also the risks that should receive more attention.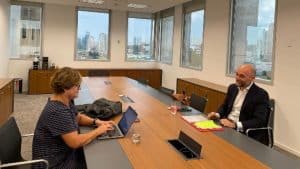 In the conversation with Brazilian journalist Kelly Lubiato, it was mentioned that the global geopolitical situation remains similar to that of a year ago: war in Ukraine, inflation, and the economic situation. This makes "reinsurance more demanding when it comes to terms, with more selective risk capacity, which brings challenges." However, one of the characteristics of the insurance industry is the flexibility and adaptability to provide solutions.
"MAPFRE's greatest challenge is how to grow the big risk portfolio in Brazil. We are the first in industrial risk and we are strengthening the team to improve in this field."
Latin America was responsible for almost €9 billion of the Group's total and, specifically, Brazil's premiums rose by 45%, reaching €4.8 billion.
Read the full news in Apólice Magazine.