This material, which is essential in construction, has also become a necessary ally in the transition to sustainable industry. Alongside Andrés Barceló, General Manager of the Association of Steel Production Companies (UNESID), we discussed the intrinsic characteristics and technological innovations of this precious element.
The qualities that make steel an essential ally of sustainable construction are based on its intrinsic characteristics: it is a fully recyclable material that is very versatile, flexible, and durable. "In addition, there are benefits associated with Spanish industry in particular, which are focused on its environmental, social, and government commitment," says Andrés Barceló, General Manager of the Association of Steel Production Companies (UNESID).
Along with these distinctive features, the manufacturing process has an environmental impact controlled by a thorough regulation of its business. "All steel-producing companies in Europe have to integrate environmental authorization. In addition, in the case of Spanish steel production, most of the steel used is recycled. That is to say, we use scrap to give it a second life by making a product with much greater value," the expert explained.

A 100% recyclable material
In many cases, the steel reuse rate is as high as 100%. "This is achieved by recycling ferrous scrap and using it to produce steel, using both electric furnaces and the traditional method, based on coal and minerals," Barceló shares. After this process, it is also possible to improve the material. "Throughout the history of steel production, we have been able to develop new attributes in steel that were unimaginable thirty years ago. There are currently about 3,000 grades of steel, which means we can find very specialized material, from steel used in healthcare environments to that used in construction. And in Spain, everything is produced from scrap recycling," he attests.
In the construction sector, in addition to a very small environmental footprint, steel requires very little maintenance, whether it is integrated into concrete to reinforce infrastructure or used by itself, thus providing infrastructure with great durability and increasing its lifespan. Additionally, its great versatility makes it easy to design projects that could not be carried out with other materials. "I'm going to give an example of a huge civil engineering project being carried out in Madrid: the remodeling of the Bernabéu stadium. This significant and intensive improvement project involves a stainless steel cover, designed explicitly for that building, for which they seek very specific qualities, such as not being highly reflective," asserts the General Manager of UNESID.
Industry challenges
The steel industry is well established in Europe, offering a flexible and strong material. However, there are still challenges to be faced that industry professionals seek to overcome. "The energy consumption to produce it is very significant; in fact, our sector is the second highest consumer of gas in Spain. This may put steel at a disadvantage compared to other materials, but not compared to aluminum, for example, which consumes as much or more electricity as steel," Barceló affirms, adding that "steel production companies are bent on optimizing their energy consumption."
This situation also impacts the price of the product, but the expert insists that it is still considered a cost-effective product. "When you look at its entire life cycle, you find that it is much stronger and more durable than materials that are produced more cheaply," he shares.
Growth and a promising future
In recent years, there has been a significant increase in steel use, especially in Spain. "In Spain, it is primarily used in two ways: building and concrete reinforcement. It is also used in non-residential construction, such as in industrial warehouses. These structural profiles allow the architect and designer to be much more imaginative. For example, we can talk about an iconic building in our country: the Guggenheim Museum Bilbao, which has a heart of steel. Perhaps it is best known for its titanium cladding, but without its steel structure, it wouldn't exist," he says.
This very strong material is also increasingly used in civil engineering projects such as highways and bridges. This application uses what are called composite slabs in which the bottom is a thick steel plate and the top is concrete. But is this progressive increase due to environmental factors? "To a large extent, yes, because this is a topic that is generating interest among public administrations and the community, but it is also due to the versatility of the material," asserts Barceló. That's why, in the roadmap for the sector, compliance with environmental aims is very relevant. "At the association, we are defining very specific objectives to guide companies in their endeavors. We are seeing drives for alternative energy because we are taking on the challenge of decarbonization as our own," he affirms. This challenge entails an equally important counterpart as its cost, versatility, and strength must all remain intact. "We are optimizing resource consumption by reducing waste and prioritizing the reuse of elements such as water. In fact, our plants are close to treatment facilities because water resources are very valuable to society. This is the path we have set for ourselves in order to contribute to building a sustainable industry and a circular economy," he concludes.
Contributors to this article: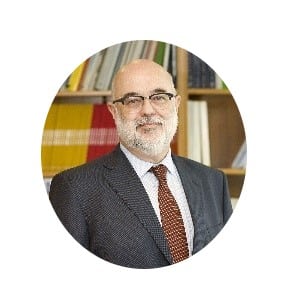 Andrés Barceló, General Manager of UNESID, studied Physics at UCM (Universidad Complutense de Madrid [Complutense University of Madrid]). His career has been linked to the steel production industry since 1993 and he has held different positions in various companies, as well as in UNESID.
In 2003, he joined UNESID as Market Manager and was responsible for Sales Policy, Economic Studies, and Statistics, and in 2009, he was appointed as General Manager. Previously, he worked at what is now ArcelorMittal as an associate in the Planning Department, a director of Project Development, and a manager of the Thick Plate segment.
Andrés Barceló was also a consultant in the Pre-Accession phase of a twinning program (Poland – Spain – United Kingdom) backed by the European Commission to mitigate the social effects arising from the restructuring of steel production and coal mining; and previously, he was Program Director at the State Industrial Agency.
As General Manager of UNESID, he is a member of the boards of Eurofer and worldsteel. Since 2015, he has been a member of the European Economic and Social Committee, representing CEOE (Confederación Española de Organizaciones Empresariales [Spanish Confederation of Business Organizations]).
Keep reading… Latin America Faces Challenge of Relaunching Steel Industry