The pandemic crisis, and now the conflict inUkraine, have had a severe impact on global supply chains, especially in the automotive and marine transport sectors. The cost of moving goods and raw materials has increased significantly and consequently, alternatives have been needed. To analyze the key aspects to this exceptional situation, within the framework of the MAPFRE GLOBAL RISKS International Workshop, a roundtable debate was held with a focus on Latin America, where regional dependence on Asian production goods, mainly from China, represents another challenge.
The meeting, with the title "Supply chain crisis: key aspects of an exceptional situation", was moderated by Jesús Martínez Castellanos, CEO LATAM at MAPFRE, and was attended by Aurelio Macías Meza, Corporate Risk Manager at the Saltillo Industrial Group, Alejandro Reyes, Corporate Controller at Sigdo Koppers, and Luis Fernando Longo Upegui, Corporate Director of Risks and Insurance at Carvajal. All of them are representatives of leading business groups in their particular industries and markets.
"Over a very short time, in just two years, many things have happened and continue to happen," Jesus Martinez began. Following the pandemic shutdown in 2020, demand and business activity increased significantly in 2021, as well as greater momentum in terms of e-commerce, in addition to other factors that all led to a collapse in the supply chain.
Ukraine's invasion has further complicated the transport chain. Even more worrying, in his view, is the food crisis. "First of all, because of Ukraine's own capacity, which has always been considered the bread basket of Europe; and because of everything relating to fertilizer exports, for which Russia and Belarus are the main exporters, and there is a real problem of global shortages, as well as a tremendous increase in the price of transport and, consequently, inflation, which is what we are all now most concerned about."
With this scenario as a backdrop, a number of questions arise: "Are we at a juncture of all these circumstances or should we really worry more about a breakdown in the supply chain? What can we do in the short term faced with this situation in Latin America? Are there opportunities to be had?"
Impact and new opportunities
With the pandemic, Carvajal experienced times of supply difficulties. The isolation of ports and the stagnation in the movement of containers complicated the transfer of raw materials to its main paper plants in Colombia from the United States. To alleviate the situation, the answer was to use alternative ports and implement new movement strategies, but this resulted in an increase in the cost of the entire process. However, they managed to prepare themselves for this and today, as an opportunity, according to Luis Fernando Longo, they are "bringing forward imports to maintain sufficient reserves in time."
"In Latin America, the political system is changing and social inequality is very pronounced, and if we don't take this into account, there will be a very significant slowdown in capex investment"
Also at the Saltillo Group they navigated the problems by approaching their suppliers and creating "small warehouses" close to their customers. The objective was to provide them with the required product and avoid penalties for breach of contract, especially in the automotive business, which is greatly affected by this type of event. For Aurelio Macías, "the structure is already in place and is going to be one of the ways of working from now on."
At Sigdo Koppers, Covid disrupted plant construction projects that have been subject to severe delays and consequently causing a big difference in costs, which they are trying to solve with the customer. Likewise, the increase in the price of freight has altered the company's plans, an impact that is all the greater in Latin America given that it is a region where imports and exports are at the core of its existence. "Today, almost everything consumed in Chile is imported: medicines, food, clothing, automobiles, etc.; and in turn we are a producer and large exporter of copper, forest resources, etc." noted Alejandro Reyes.
New economic model?
Another key factor is Latin America's heavy reliance on Asian, and primarily Chinese, production goods and a single supply chain. In this context, "Perhaps the West should re-think its economic model and maybe carry out some kind of re-industrialization?" asked the moderator.
The Saltillo Group's strategy of having multiple suppliers for its inputs and aligning its supply chain, seems to have worked. But will it work in the future? In the opinion of Aurelio Macías, "the model will have to evolve and keep moving forward. Within our Group, specialized areas were created by business to thoroughly review the supply chain and see what the impacts might be and to make the necessary changes, always hand-in-hand with the suppliers. In the final analysis, you have to team up."
Without a doubt, the system has to change, Alejandro Reyes revealed and acknowledged the need to raise awareness, firstly about what is happening and secondly, to cooperate. "We can't be neutral. In Latin America, the political system is changing and social inequality is very pronounced, and if we don't take this into account, there will be a very significant slowdown in capex investment. We have to provide investors with peace of mind." In addition, he advocated raising awareness about the need for change to the current energy system, based on oil and coal, and the need for a quick solution of the differences between China and the United States, which, in his opinion, "put the entire global logistics system in jeopardy, and Latin America in general is seeing its effect in a very significant way."
With 118 years since its founding, the Carvajal business group has demonstrated its resilience. Although it has a presence in other Latin American countries, the paper mill's main customer is in Mexico. "That has given us the possibility of being able to handle the production processes more easily and not rely so much on the international market for the vast majority of the raw materials used," said Luis Fernando Longo. They also employ environmentally-friendly processes.
"More than ever, we must make this effort in efficiency so as not to contribute further to the inflation chain we are now in"
Impact of cost increases
Price increases in transportation, raw materials, energy, etc. are affecting companies, albeit to a different extent, depending on the sector and other factors. Specifically, Carvajal ended 2021 on a very positive note, with some forecasts being exceeded by over 140%. However, they recognize the delays seen for some products, which have resulted in losses. For Luis Fernando Longo, it was beneficial to "be able to count on Fundación Carvajal as a partner of the organization".
The Saltillo Group has a diversified business in which the automotive sector has proved to be the most impacted. The situation seems to have improved since late 2021 and early 2022, "with a rebound in the level of business that is nonetheless not as fast as we would like," Aurelio Macías reveals. Fortunately, he adds, "we were able to navigate these past two years without impacting people and without price markups, by applying cost logistics and working with all the companies together to achieve a positive result."
At Sigdo Koppers, they see only opportunities and have focused on three key elements: innovation, people (during the pandemic they did not overlook anyone) and the commitment that flows from being a vital company in the supply and production associated with copper mining in Chile, which did not stop during the pandemic. "But we are obviously concerned about how today's transportation and distribution costs have become a factor that is significantly impacting the margins of some products and services," said Alejandro Reyes.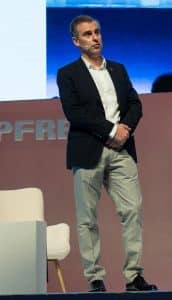 Contribution to sustainability
Sustainability is present in the roadmaps of the Saltillo Industrial Group, Carvajal and Sigdo Koppers. Aurelio Macías highlights the commitment of his company in Mexico as a socially responsible company, through policies to ensure the comfort of its people and its involvement with society, for example, participating in reforestation activities and campaigns in the form of voluntary initiatives.
At Carvajal, Luis Fernando Longo recounts, two years ago the vice-presidency for sustainability and the circular economy was created, where they have developed plans for the prevention and control of losses, as well as a conservation manual, widely disseminated throughout the organization. They also have in place a disaster risk management response contingency, which is a requirement of the Colombian State that not only addresses the impact this threat can have on the company but also how it is prepared to respond to environmental damage.
Sigdo Koppers is committed to significantly reducing CO2 and is aware that transportation globally generates 15% to 20% of greenhouse gases, so they have some major projects ongoing in Chile to increase its train fleet and are also building a green hydrogen plant. In addition, Alejandro Reyes says, they have a firm commitment, globally, to reduce the group's CO2 emissions by 40% over the next five years.
Main conclusions
For Jesus Martinez, "the reality is that we are in a situation that is as yet unknown from many aspects and this is leading us into a very complicated situation, both from a social and economic standpoint. We've found that the supply chain is very complex, that it's hugely interconnected, but above all that it's very vulnerable to external effects such as those happening at the moment." In his opinion, this situation "should lead us to think about the heavy dependency on regional logistics and how to manage stocks and inventories… something that companies, especially in the industrial field, are already doing in a different way."
The maritime sector has room for improvement. "It is perhaps the sector that stands out as the worst in terms of this situation", he continues, advocating "the incorporation of more technology and management." In any case, "each of us must do our part, find a way to help improve the situation and enforce efficiency mechanisms in our companies much more, so as not to have to apply cost increases to the end-price. More than ever, we must make this effort in efficiency so as not to contribute further to the inflation chain we are now in."
In his view, the role of insurance is key as an economic driver and recovery mechanism. However, "in Latin America, unfortunately penetration is very low, not both in large companies and in the case of families, small and medium-sized companies, and the development of insurance in the region is absolutely essential."
Keep reading… Jesús Martínez Castellanos, "There are great opportunities in Latin America"