The health crisis caused by the Covid-19 pandemic has posed a major global challenge, mainly in terms of the socioeconomic environment. Even though restrictions have been lifted in most countries, governments are working to reactivate production systems and combat the global recession. Against this backdrop, telecommunications will play a leading role. A telecoms expert from the region explains the main trends and opportunities in this sector in Latin America.
The technological changes and developments around which the digital transformation is structured will be a determining factor in the economic recovery and global reconfiguration following the Covid-19 crisis. Lockdown measures and preventive social distancing put telecommunications infrastructures to the test around the world. To assess the impact of this technological challenge in a region that is as large and diverse as Latin America, an analysis of the starting point and gap between countries is required. While recognizing that we must avoid generalizations, Joaquín Guerrero, Director for South and Central America at NAE believes that there are common trends in the region and across the world that can be viewed as a whole. "From the perspective of telecommunications and, subsequently, access to the Internet, Latin America has followed, accompanied by its particular features, the same process as the rest of the world: from a limited infrastructure provided by the State to a mass service provided on an open market," he asserts.
Challenges of implementing technology
The development of infrastructures in Latin America is defined by the foundation of two major groups that marked a turning point in the history of the region's telecommunications: Telefónica (under the Movistar brand) and América Móvil (under the Claro and Telecel brands). "Both groups compete on the main markets, from Mexico in the north to Chile and Argentina in the south," explains our telecoms expert, who adds that "later, groups like Milicom (under the Tigo brand) or Liberty Latam (with VTR Chile as its main asset) would also appear on the market.
In 2016, the first MVNOs (mobile virtual network operators) start to appear, with the arrival of Virgin in Chile, although their impact was relatively low and they have never obtained a market share of more than 10%. "Although mobile technology has become widespread, access to fixed-line Internet has not, and across the region, the penetration of these services differs from other locations. This is what is known as the digital gap, or the inequality in terms of access to ICTs depending on a range of both social and geographical factors," asserts Guerrero.
The current scenario, prior to Covid-19, consists of a telecommunications network that is not very dense, generally speaking. "The penetration of fixed broadband is limited and mostly concentrated in cities, while the density of mobile phone base stations per square kilometer is lower than is the case in other regions. For example, in Colombia, there are around 20,000 locations, whereas in Spain there are 50,000, despite the former being twice the size of the latter. The presence of backbone fiber networks that offer national connectivity is also scarce and has been detected as a bottleneck that has resulted in countries investing in projects that have had varying degrees of success: such as the Dorsal network in Peru, "Internet para todos" in Colombia, the Austral network in Chile, or the National Telecommunications Fund in Costa Rica," he explains.
Structural shortcomings do not prevent Internet access from being a core part of industrial and community development in Latin America. "For some years now, Chile has been one of the OECD countries with the largest volume of mobile data consumption per month per customer, and both Mexico and Peru placed higher than European countries like Spain, Germany and Portugal in terms of this type of consumption. Consumption of fixed Internet access, once again in GB/m/c, in Latin American countries is practically double the average figure seen in European countries," he says.
Current scenario
Over the past decade, Latin America has made huge strides in terms of developing infrastructures, although the status of its digital ecosystem varies.
Although the general penetration of fixed broadband is low, significant efforts are now being made in different countries across the region to deploy fiber optic networks. "Connectivity in Brazil now rivals the figures being seen in Europe," asserts Guerrero, "and the penetration is Chile is also worth note. Countries like Peru and Colombia are also achieving impressive figures. Much of this development can be traced to Telefónica's strategy to industrialize the roll-out of fiber optics and the subsequent response of certain local players. In the region, there are networks that use alternative technology based on hybrid fiber-coaxial (HFC) developed by groups such as Claro and Tigo." However, these developments are concentrated in urban areas, meaning there is still significant room for improvement. "When it comes to 5G, the region has made significant efforts in awarding frequencies and auctions are taking place, although they have been affected by the pandemic. Uruguay claims to have a commercial network in operation and there are a wide range of pilot projects ongoing in Brazil, Mexico, Colombia and Peru. The issue of network density will become more relevant as these new networks are rolled out."
"Digitalization should be one of the levers for multiplying the value of all industries, including those in the primary sector. Once of the key levers of 5G is that it allows for complex cases of use, which were until now intractable, specifically in the fields of agriculture and mining. We are even considering scenarios in the region in which progress with 5G is made first in private "B2B" scenarios and then much later made available to the general public," predicts the expert.
Covid-19 crisis
The preventive measures put in place by authorities across Latin America to slow down the spread and impact of Covid-19, including lockdown measures and the closure of workplaces, has seen an increase in the use of telecommunications networks, both in terms of the supply of goods and maintaining economic activity. "Both fixed and mobile networks in Latin America are sparse when compared to other regions. One of the key differences in terms of the impact of the crisis has been double edged: the traffic on mobile networks, which serve a very high percentage of prepay customers, has slightly decreased, and generally speaking, performance (measured as download speed) has not been affected. In fact, it has improved as the weeks have gone by.
In contrast, fixed connections have generally seen a notable increase in traffic. The networks have been adversely affected by this increase and as a result, performance has worsened, even if only slightly, as has been the case worldwide," explains our expert. From this perspective, there are cases like Peru, which have been severely affected, whereas Mexico was able to quickly absorb the impact on fixed networks and improved the performance of both networks.
Economic activity has also required the digitalization of production to maintain operations despite the disruption caused by the crisis. For the system to continue working in the context of the pandemic, companies require advanced technology, both in terms of their own activities and their communications with logistics operators or port and customs operators. According to a recently published report (Las oportunidades de la digitalización en América Latina), in which organizations including CEPAL and CAF participated, Latin American companies demonstrate a high level of Internet connection, although the proportion using the platform in their supply chain is limited. Therefore, regardless of the infrastructural coverage, a very significant proportion of the business fabric, in particular SMEs, have failed to include digitalization in their supply chain and distribution channels.
But is there anything that we can learn from this emergency? Joaquín Guerrero believes that this will happen around the world. "In terms of risk management, the industry as a whole was not prepared for such a crisis. The emergency measures implemented by regulators worldwide, including Latin America, to declare Internet connection an essential service and restrictions on the provision of services, cancellations and suspensions has an obvious air of improvisation." He asserts that, on a technical level, the pattern of use of fixed networks during the pandemic was quite specific. "Telecommunications network traffic has peaks, when many people are using them, and troughs, when not many people are using them. In particular, at the start of lockdown, we witnesses a phenomenon in which troughs were filled until "plateaus" were formed. However, although the height of the peaks did grow, they did not grow that much. This is the exact opposite to what happens for mass events, such as the soccer World Cup final. In this regard, the crisis could be managed with relative ease by most of the fixed networks," he says.
To prevent this crisis from ending without a solution, our expert has provided us with a series of tips that can help to create an added layer of value concerning digitalization, in which it is possible to identify a number of players: users, digital service providers, in particular GAFA (Google, Amazon, Facebook and Apple), companies, digital infrastructure providers and governments:
Access to digital tools at a competitive price
Increase in value across the entire chain
Companies must be able to generate value by digitalizing their products and services and business cases must support the transfer of labor-intensive processes to new processes structured around digital assets
Article contributor: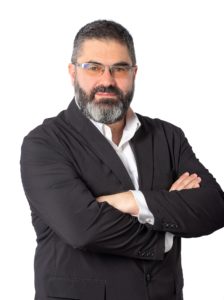 Joaquín Guerrero is the Director for South and Central America at NAE. He has worked in the telecommunications industry for the past 25 years, developing his professional career as a consultant working for the main groups in the industry on both side of the Atlantic, including Telefónica, Claro, Tigo, Orange, Vodafone, Entel, MásMóvil and a long list of other clients.
He is currently the Head of International Business at NAE and is dedicated to growing the office in Peru. His areas of expertise in the telecoms industry include product definition, infrastructure design and deployment, IT transformation and new business models with a specific focus on the impact on quality and customer experience.