Today, technology is evolving at a rapid pace in almost every industrial sector.Still, renewable energy stands out as an area where change is faster and more widespread than in most other industries.
Almost every government in the world has shown its support in recent years to the renewable energy sector through strong incentives and investments, prompted mainly by internationally agreed environmental requirements. These investments, devised to make renewable energies more competitive than traditional energy sources such as coal and gas, have triggered rapid technological evolution in the form of new designs, materials and components.
Apparent at a recent conference in London was the significant raising of awareness of the energy sector regarding the need of insurance companies to increase their understanding of these advances, with the aim of offering more adequate insurance to cover these growing risks and better assessment of them.
Benefits and challenges of growth in the wind energy sector
The constant and significant changes taking place in the wind energy sector are a good example of this, as a result of which, electricity producers are installing bigger and heavier wind turbines to generate increased power production on their wind farms. In the early days of the industry, wind turbines on the whole were very small. Today, however, wind turbines of 2-3 MW and even more can be found dotting the landscape. This means that in some cases, rotor diameters can be 100 meters or more. In a number of cases, concrete towers are being installed instead of steel in order to support the weight of the nacelles.
This change brings benefits with it. Concrete towers are ductile, providing more stability in seismic areas. In addition, these towers don't require maintenance and are generally more durable (> 50 years), have higher damage tolerance and are highly fire-resistant.
However, additional risks emerge during the CAR/EAR stage, because of the need to use higher cranes to reach these greater heights.
New risks bring new perspectives
In some European countries where wind energy has been a feature for many years, some wind farms are reaching the end of their life cycle. For this reason, plans are being implemented to prolong their usefulness. This situation entails new risks for insurers that they need to be aware of, and ready to cover, along with their clients.
In the business world, some European wind turbine manufacturers are merging so as to meet and address the challenges posed by growing competition, particularly that of Chinese manufacturers, which are of increasing importance in the sector.
These events involve new challenges that insurers need to be able to meet to retain their clients and maximize opportunities for themselves.
Another important development in the wind energy sector is the sophisticated software that manufacturers are currently providing as part of their installations, which gives wind farm operators a digital infrastructure that allows them to collect, view and analyze data at both unit and farm level. Through the constant gathering of these data (weather, component information, service reports and performance of similar models), predictive models can be built that convert data into processable information.
This aspect also allows wind park operators to optimize their maintenance strategies, improve reliability and availability, and increase annual energy production. All of this is positive, but as in many other sectors where big data is used, cybernetic risks abound. Little thought was given to this in the early days of wind farms, but it is a risk that insurers must cover now, ideally as part of a "package program", to avoid any gap in coverage.
Drone use takes off
Big data isn't the only noticeable change in maintenance practices. Increasingly common is the use of long-range cameras and drones to inspect wind turbine blades and transmission lines. Using drones facilitate real time assessment, enabling operators to act quickly if necessary.
Some photovoltaic plants use these technologies in addition to drones to carry out aerial thermography to detect hot spots on the panels. This allows operators to enhance the efficiency of maintenance work, because the number of installed modules can be very high. While this practice can save time and resources, it also involves new risks.
Offshore wind power opportunities
Another example of the evolution in technology, along with correspondingly greater insured amounts, is to be found in offshore wind energy installations. Today, 7-8 MW wind turbines are being installed, and 10 MW (or more) prototypes are being considered for the near future. Floating wind turbines are being installed in deep water where towers with a base are impractical and where the wind is steadier and stronger on the ocean due to the absence of topographical characteristics that interrupt the flow of air currents.
Thanks to technological advances and increased operational efficiency, some large power companies are eschewing conventional sources of energy and focusing increasingly on renewable energy sources, particularly wind energy. As always, this development offers many benefits but also greater risks that insurers need to both be aware of and be able to cover.
Looking to the future, the insurance market has a great opportunity to make a difference through sustainable business practices and being receptive to the rapid changes the renewable energy sector is undergoing, appreciating the scale and complexity of these new industry risks.
At MAPFRE Global Risks, we are deeply committed to sustainability. We provide market-leading risk management and insurance solutions that cover existing risks and new risks that emerge in the development of renewable energy projects in cooperation with our customers, particularly in countries where MAPFRE is present.
In keeping with this policy, the Energy Area of our Global Risks Unit, in collaboration with the Engineering Department, is developing a specific product to insure wind parks with a capacity of less than 100 MW. Various MAPFRE companies will soon be marketing this product in countries in Latin America, taking advantage of the investment in renewable energies planned for the coming years in the region. The goal for the future is to expand the scope of this produc so it takes in photovoltaic and small hydraulic power plants as well.
MAPFRE's commitment to the planet and sustainable business
Our commitment to the renewable energies sector is not only aimed at business activities.We are also committed to supporting the sustainable energy objectives of the United Nations, which are designed to protect people, the planet and prosperity, during the period 2016-2030. It's part of the MAPFRE Group's 2016-2018 Sustainability Plan and embodies the company's commitment to sustainable development.
MAPFRE has achieved the maximum rating under the United Nations Global Compact on issues of Corporate Social Responsibility (CSR) for six consecutive years. We have also been recognized as one of the leading companies in the struggle against climate change by the organization CDP – Driving Sustainable Economies, a distinction that only 5 percent of companies share.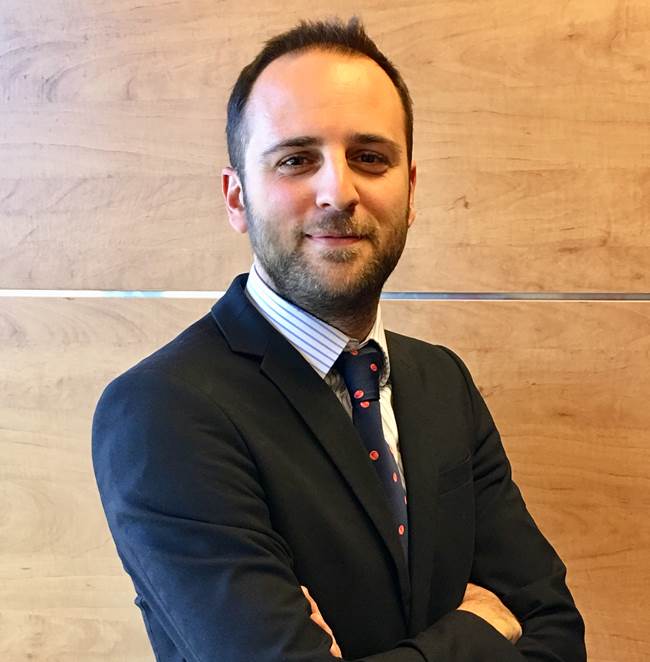 Author: Alberto Mengotti Forns
Head of Power of the Energy and Construction area of MAPFRE Global Risks