Large infrastructure is currently facing an immense number of risks, arising from the increasing complexity of projects. The slow but clear implementation of tools for digitalization and automation in the sector are helping to channel those threats and improve buildings' viability by a more sustainable use of available resources and by putting in place more accurate predictive models. This in turn is increasing the profitability of projects.
Due to its size and complexity, large infrastructure faces many risks, starting with those directly associated with its construction. From a strategic standpoint, these could be due to design flaws and risks of obsolescence, underuse, funding, or even regulatory risks, as acknowledged by Fernando Vizoso, head of the Infrastructure and Transportation Division at KPMG in Spain. On a more tactical level, there are building risks, which manifest as deviations of time and cost; geotechnical risks; weather risks, which are connected to supply chain performance; and labor risks, both social and environmental in nature.
In light of these risks, new technology plays a role that is "absolutely essential, particularly with regard to the use of drones, video surveillance, facial recognition, monitoring, and early emergency and accident detection, among others," listed the expert. This is a group of truly innovative improvements that until several years ago were not extensively used in this sector and have begun to appear recently.
Toward a stronger link with technology
Traditionally, these have been fields that have not fully embraced innovation—both engineering and construction firms themselves and the technology industry, which has been deeply involved in other segments such as finance, consumers, utilities, services, and others, Vizoso noted. The World Economic Forum (WEF) attributed this slow inclusion of new technology to "the industry's lingering fragmentation, inadequate collaboration with providers and contractors, difficulties in hiring talented employees, and insufficient transfer of knowledge from one project to another."
In spite of this, the situation has radically changed. Projects are progressively larger, at greater distances, and in difficult locations and circumstances. This has brought technological solutions into the "essential" category, as managing risks for these mega-projects and enhancing their profitability require innovative resources that make the operations possible.
Since the world's last economic crisis, the surviving construction firms have come out stronger thanks to their use of technology and have decidedly jumped onto the bandwagon of innovation. In addition, the search for new market niches has led technology companies to open collaborative spaces with infrastructure companies. It is a process of familiarization between both industries where engineering companies and consulting agencies are playing "a very interesting role as intermediaries," the KPMG expert confirmed.
At present, drone use is standard (topographical surveys, monitoring of projects in difficult locations, or monitoring infrastructure for maintenance). It is also standard to use robots, particularly in building construction, remote control using video and sensorization, and even data and big data analytics applied to monitor project deviations and plan efficient designs.
In this sense, Vizoso praises tools like the advanced versions of BIM (Building Information Modeling) that are having an enormous impact on the design, operation, and construction of large infrastructure. These will lead to a significant improvement in direct costs, quality, delays, and safety throughout the sector's value chain.
The future of construction
Managing data and fighting cyberattacks
The most significant technological investments being made in the sector are focused primarily on two aspects:
– Data usage. Both in the design and operation phases as well as in predictive maintenance. "Today it is completely possible to create predictive models that we can use to simulate the effect of many variables on a project in progress," observed the head of the Infrastructure and Transportation Division at KPMG in Spain.
– Protecting buildings from threats such as cyberattacks. Engineering and construction firms are adopting internal cyber risk management policies with help from consulting agencies, to assess and administer exposure to those attacks, and from insurance companies, which have created products to transfer the risks faced by every player involved and support hazard mitigation.
Nonetheless, the fact that it must be possible to integrate and connect infrastructure with technology—as in the case of smart buildings, driverless vehicles, and transit systems—has spread the use of data and cyber threats to large projects, as that connectivity affects even how the structures are built, operated, and maintained. And this trend continues upward. In 2010, smart buildings worldwide generated 1.2 ZB* of information. This figure rose to 7.8 ZB in 2015 and is expected to reach 37.2 ZB in 2020, according to the World Economic Forum's report "Big Data, Big Impact: New Possibilities for International Development." (* ZB =Zettabyte. A data storage unit equivalent to 1 trillion Gigabytes)
That is why Fernando Vizoso believes that, in a highly competitive market like the infrastructure market, projects are planned with progressively greater complexity in their conception and design. Therefore, "the companies that cannot provide solutions at that level, thus failing to make 'smart projects,' will run the risk of being left out of the market."
The coming challenges
Cyberattacks and mass use of information bring with them other problems that engineering and construction firms must face: certain regulatory barriers, precisely due to the increase of requirements on data usage and the wanting regulatory standardization between countries. The expert also stressed that cyberattacks and mass information use represent significant obstacles to the use of technology and innovation in construction projects. But this is not the only aspect to consider: the climate emergency and its consequences "are going to put infrastructure's resilience to the test. That is where technology can play a fundamental role by predicting and mitigating their effects."
Despite taking place slowly, in recent years several public programs have appeared that are supported by technological analysis and risk prevention tools to mitigate exposure of large projects—especially critical projects—to physical and cyber threats. An example of this is STOP-IT, funded as part of the EU's H2020 Program for integrated safety risk management in water supply infrastructure.
For the future, Vizoso believes that the primary challenge is to face the risk of technological and social obsolescence, which "can only be done with flexible and versatile design." In fact, interconnection will mean that projects' individual components can interact on an almost "live" basis by including monitoring technology that will provide real-time information on their operating efficiency and service life, to the point that the components themselves will use sensors to "notify" when they need to be replaced.
What is certain is that technology will be used to build large infrastructure with fewer people on-site, increasing the safety of personnel and resource efficiency. In its report "Innovation 2050: A Digital Future for the Infrastructure Industry," the Balfour Beatty international group predicts that by the middle of the 21st century, some infrastructure will be built without human labor. The work will be carried out off-site using remotely controlled robots, mechanical devices operating with artificial intelligence and new materials, and methods used to optimize costs and improve safety and efficiency.
Digital technology applied to the Engineering and Construction value chain
Article collaborator: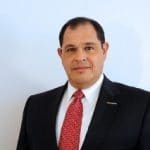 Fernando Vizoso holds a degree in Business Administration and a Master's in Business Resource Planning. He is currently the head of the Infrastructure and Transportation Division at KPMG in Spain. He is a member of various working groups at KPMG International, focused on specific segments, such as rail, water and the environment, ports, and cities.
His professional career has been in the consulting sector, specializing in infrastructure and transportation for the past 18 years. He has taken part in strategy consulting, operations, and organization projects both in Spain and overseas. His experience in Latin America, Europe, and North Africa is particularly notable.
The clients he has advised, primarily from a strategy consulting standpoint, include public and private groups that operate in the main segments of the infrastructure sector: rail, roads, logistics, ports, airports, the environment, and services. He also has extensive experience in asset acquisition and market research, as well as assistance in tenders.
Additionally, Vizoso has been an associate professor of Finance and Management Skills at the Universidad Carlos III de Madrid since 2002. He is a member of the Infrastructure Commission, the Commission of Licenses and Services, and the Residential Buildings Working Group, all within the Spanish Confederation of Employers' Organizations (CEOE). He has also been a member of the Sub-Committee of Logistics Operators of the Spanish Chamber of Commerce since 2018.