Technology is having a significant impact on production processes, leading to the comprehensive digitalization of industry, from physical elements to information and interconnection channels. Logistics is fully involved in the digital transformation that is revolutionizing mobility and optimizing the supply chain with innovative tools that foster the shift to a new more efficient and sustainable business model.
This progress is developing into new programs that guarantee production adapted to the type of company and consumer, tending to reduce stock and storage in search of more efficient management, according to demand, optimization of transportation routes (thanks to geolocation and tracking systems as well as freight tracking) and the strengthening of communications between all players involved.
"This technological revolution is allowing processes within companies to be connected efficiently and economically, based on an incredibly reliable, transparent, and fast environment within a context of hyperconnectivity between players: machinery, processes, workers, suppliers, and clients, integrating with functions beyond logistics (restocking, incident management, traceability, etc.) such as engineering and facility maintenance in a smart and flexible environment," stated Ramón García, director of Innovation and Projects at the Spanish Center for Logistics (CEL).
Specifically, this transformation is becoming apparent in solutions ranging from the gradual inclusion of alternative energy vehicles into the fleet and the implementation of services based on collaboration between different players such as delivery to convenient points and smart lockers as well as the sharing of resources both in transport and in urban storage. In this sense, García gives the example of shared distribution microplatforms. He believes that "the success of these kinds of solutions depends on a significant cultural change for traditional players and the creation of standards and tools that allow for efficient interoperability."
The intensive use of technological tools throughout the logistics process, from order placement to merchandise delivery is allowing new, more innovative applications based on advanced technology, such as those listed below, to be implemented in addition to the already fully implemented applications such as route optimizers and fleet managers.
– Cloud Computing. Meta search engines on the cloud to facilitate online contracting of messenger services and shipments for businesses and e-commerce; big data for asset management and predicting demand on highways; and Blockchain applications in environments with multiple transactions such as logistics services in ports.
– Mobile. 4G technology for specialized goods transport (hazardous goods with specific storage conditions, etc.) and instant messenger services for communications between vehicles offering multiple computer applications and incident resolution.
– IoT. Autonomous boats based on smart systems and sensors to transport and track goods in dangerous situations; digital solutions for the shift to smart ports that boost trade and logistics (and integrate into smart cities); and drones for regular delivery of essential goods in remote areas and during emergencies.
The challenge of security
This growing interconnection required by Industry 4.0 absolutely must address security issues, as connected logistics is allowing for the birth of a new kind of cyber crime.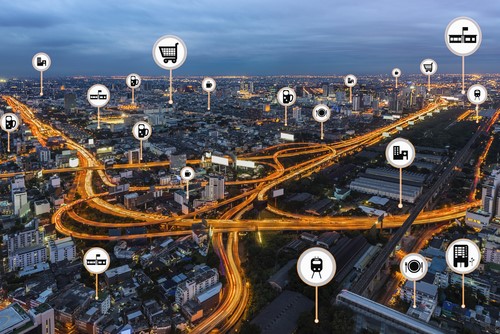 As the director of Innovation and Projects of CEL stated, several regulations, such as the NIS Directive and the Critical Infrastructure Protection program, aim to mediate the risk arising from constant cyber crime incidents in the supply chain that may lead to significant financial losses.
However, cybersecurity is not the only concern that logistics companies must protect against in the face of technological disruption. Tracking industrial vehicle units to prevent theft is another aspect where both traditional fleet management systems and devices based on a combination of technologies (IoT, GPS, 4G, etc.) are showing great progress to fully monitor both the means of transport and the merchandise from dispatch to delivery.
In addition, it must be considered that the supply chain is comprised of multiple players of different sizes between which a technological gap may arise in the optimal performance of the logistics process and its security mechanisms. That's why Ramón García believes that "a cultural change is necessary and that all small and medium-sized companies understand that technology does not have to necessarily involve a huge investment, since there are mechanisms such as pay per use and cloud computing with which any company can use advanced services and quite complex tools at affordable prices."
Reformulating business models
The continuous process of the digital transformation will involve the adaptation of supply chain management and changes to the production, purchasing, and consumption models, which will require "the development or concurrence of standards that will make their implementation much easier, more inexpensive, and more interoperable." This landscape requires:
– Understanding what is going on, opportunities, and threats. "Organizations that acquire greater digital capacity will not only increase their production capacity and improve their quality and relationships with clients, but they will also be pioneers in environments that will allow them to explore new business opportunities while maintaining current ones and defending against potential corporate intrusions, even those outside the business, but involving great technological capacity," stated Ramón García.
– Being firmly committed to innovation and technological development. In order to do this the market must be educated about the existence of and opportunities provided by new services and modes of service provision, always advocating for technological convergence: "There is no single solution to successfully adapt to the new environment, rather all solutions must be applied in conjunction in order to improve operations and services."
– Making decisions with regard to positioning and the business model. The company must have a great deal of information on the technologies applicable to their line of business. That is to say that they should be given the opportunity to learn about the solutions available on the market for each of their specific, previously identified and analyzed problems, and they should be adapted to the size and requirements of the individual organization.
– Hiring the right professionals and developing the right corporate culture. In order to leverage their full technological potential, companies need "professionals with solid practical logistics training that are able to identify and analyze critical points and set out to develop a connected supply chain."
– Generating a great deal of cybersecurity awareness. "Organizations need to adapt their processes and business models by incorporating all the security measures within their reach so that they can obtain a level of security in accordance with their risk appetite as well as the required degrees of regulatory and ethical compliance," said García.
– Leading change. The logistics industry must be one of the most important in Industry 4.0, both given its weight in international markets and its ability to create large scale commercial partnerships.
Driving E-commerce
However, if there is one aspect that is vitally important to the fate of the logistics sector it is the rise of E-commerce, an industry whose global sales increased 13% in 2017 reaching a turnover around 29 billion dollars, according to the latest statistics from the United Nations Conference on Trade and Development (UNCTAD). "The illuminating data show the sustained growth of E-commerce and the existence of a supply for digital consumption that it is increasingly varied and innovative, where logistics functions as an enabler and catalyst," stated García.
The turnover of e-commerce has caused the logistics industry to reinvent itself, implementing solutions for fast resupply, tools that allow for high efficiency in warehouse operational processes, transportation management systems (TMS), etc.
Along this line, García believes that the main logistical challenge that the industry must face is urban freight distribution (UFD), as the increase in online demand is combined with new, more restrictive mobility ordinances for the most polluting vehicles in large cities. Therefore, the search for innovative technological solutions is key to adapting to this complex environment and maintaining efficient service is an "asset for business development."
This article was written with assistance from…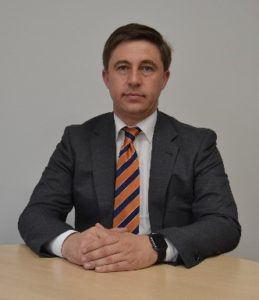 Ramón García is the Director of Innovation and Projects at the Spanish Center for Logistics (CEL), General Manager of the Center for Innovation for Freight Logistics and Transport (Citet), and Vice Chairman of the eAPyme association. He has more than 20 years of experience in the field of supply chain management at multinational firms (BASF, GlaxoSmithKline, and Grupo El Corte Inglés), holding specialized, project management, and consulting roles.
Since 2001 he has been teaching as an adjunct professor at Universidad Carlos III, Universidad Camilo José Cela, and a number of business schools, teaching subjects related to operations management, logistics, quality, and ICT applied to the logistics and transport industry.
He holds a bachelor's degree in Business Administration and Economics from Universidad Carlos III in Madrid, a master's degree in Quality Management from UNED Ramón Areces, and a master's degree in Logistics for Security and Defense Systems from Universidad Rey Juan Carlos. He received the European Certified Logistician (ESLog) certification from the European Logistics Association, is a Certified Supply Chain Professional (CSCP) and Certified in Logistics, Transportation, and Distribution (CLTD) by APICS, and, thanks to his contributions to the logistics field, he is an APICS Certified Fellow in Production and Inventory Management (CFPIM).