The technological consolidation of Industry 4.0 can be seen very clearly in the areas in which most of the processes that make up its activity come together: smart industrial parks. These specific areas not only involve a combination of services, but also a cultural transformation of the business fabric and new forms of management that place us in an unprecedented innovative scenario.
Supporting Technologies
As the manager of APPI explains, when it comes to supporting technologies applicable to a smart industrial park, those that serve to provide intelligence to the management of the various work areas should be taken into account, therefore optimizing the services both for the members of the company and for the end user. These basic tools would include:
Telecommunications infrastructure. Access to these connection services through a wide variety of devices –fixed telephony, IP, computers, production systems, tablets, etc.– with a good quality connection and sufficient security guarantees. "In particular, communications via optical fiber, a technology that exists but is not generally deployed in all industrial areas or the future possibilities offered by wireless technologies, such as 5G."
Competitive intelligence system. For the collection, arrangement and aggregate processing of relevant data relating to the management of the area or services provided.
Integrated management platform. The development of applications that allow the integrated management of the maintenance of industrial areas, as well as the services provided, should be promoted, such as:
Control and management of the security that allows the protection of data stored or managed by companies.
Innovative energy and environmental technologies that enable greater environmental sustainability and energy sustainability for public space, infrastructures or businesses.
Key management areas
The coordination and use of technological services implemented in any industrial area always depend on the activity and purpose of the industry. However, when it comes to deploying an efficient architecture in parks, there are some fundamental points that must be covered. Romina Moya divides these into seven areas:
Physical security and cyber security, with tools for emergency management, alarm and warning systems, video surveillance equipment, remote actuators and locators, predictive security risk analysis systems, etc.
Mobility, with the development of freight transport that effectively and efficiently use the available infrastructure, as well as improving the quality of life of users by reducing or eliminating access saturation and unexpected events.
Emergencies and disaster resilience, implementing and promoting services to mitigate the effect of incidents.
Supply, deploying solutions for monitoring, analyzing and predicting the operations of electricity, telecommunications or water supply systems, in order to optimize resources and achieve high levels of sustainability.
Maintenance, with the construction of common management platforms that incorporate data capture and interpretation systems, geolocalization of infrastructures (and estimates of their state of conservation) and act proactively in this way as regards their maintenance.
Waste, with the promotion of formulas of industrial symbiosis that mitigate the generation of waste, in order to reduce the problem concerning the creation, transport, treatment or storage of industrial waste.
Steps for transformation
According to Gaindustriales, in order to transform a traditional industrial area into a smart industrial area in a development that could take a period of two years, it is necessary to perform incisive planning in advance. "Like any project, first of all we have to analyze the situation, the problems we want to solve and define a strategy to kick off from the starting point," says its founder. On the basis of this strategic planning, concrete goals and objectives will be defined, to be achieved within a specific time frame. The most common pitfalls to be overcome by most industries focus on five areas: mobility, sustainability, security, connectivity and networking. The integration of emerging technologies that allow the automation of processes, advanced analytics or the sensorization of resources could imply a great qualitative leap for the industrial activity.
Despite the existence of a contextual channel that allows the standardization of these practices and the structuring of a smart architecture in industrial areas, there are still difficulties that go beyond practices, and that are related to a change of mentality. "The main challenge we face is to align the interests of all the agents in the business world: workers in the area, companies, management bodies, administrations, etc. In addition, we have legal conditions, which in Spain are by no means insignificant," he explains. As for the investment it requires, he considers that it should be focused on the benefit it brings, so that "all agents can see the payback of efforts –both economic and in terms of resources–" and a public-private partnership that guarantees "a commitment from all parties so that projects are not suspended or dragged out for years, and so that the plan is aligned with the territory's strategy," he concludes.
Advantages of implementation
On the basis of the main operational pitfalls, the integration of a smart service in industrial areas brings about countless benefits, including the following:
Improvement of safety mechanisms, both in terms of occupational risk prevention and exposure to material resources. Workforce monitoring, routine follow-up and warning systems can help in risk containment.
Information gathering, data analysis and simulation tools allow the creation, using predictive models, of highly efficient algorithms that prevent accidents or deficiencies in safety systems.
Route optimization, smart and unmanned transport can provide the industry with efficient mobility. In addition, the reduction of vehicles can improve management by avoiding bottlenecks in the value chain.
It facilitates coordination between different areas, creating a systematized and transparent ecosystem that can be accessed quickly and instantly.
In a global vision, collaboration between different companies can be enhanced by adapting production batches to trends in the same sector. Furthermore, by sharing quality, capacity and logistics variables, savings can be achieved in the short, medium and long term, resulting in more competitive prices throughout the supply chain.
Article contributor: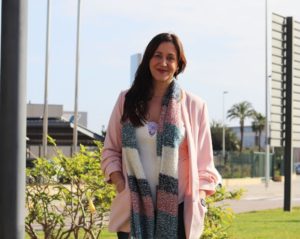 Romina Moya has a degree in Computer Science Engineering from the Polytechnic University of Valencia, studied business at the University of Valencia and completed her studies at the ESIC with a degree in Marketing. Her professional experience has always been linked to technology and industry, and she has held positions in companies such as the strategic consulting firms Ahora Soluciones and Forintec, and in recent years as manager of industrial areas.
Her commitment to innovation in industrial areas has led her to become involved in the management of APPI (Association of Businesspeople of Industrial Parks and Estates –Ribera Baixa–) and RIB A3 (Riba-roja A3 Business Association), managing the industrial areas of Almussafes and Riba-roja, strategic areas for industry in the Region of Valencia. She currently provides professionalization services for industrial areas through the company Gaindustriales.