Since 2020, thermal imaging has frequently appeared in the media, contouring people as a disease detector, but this remote detection technique is widely used in risk forecasting and assessing industrial equipment.
Infrared thermal imaging is a non-destructive testing technique consisting of analyzing infrared radiation images taken with remote acquisition devices. Their deductions, popularized during the pandemic, are also very valuable in the industrial field, as they facilitate risk prevention and the evaluation of the heating of equipment before they constitute a danger or lead to a disaster.
This tool, key in the detection of anomalies and the optimization of processes, is used in many sectors, as Rafael Royo Pastor, expert and senior professor at the Polytechnic University of Valencia explains to us.
Among the most effective uses of thermal imaging is in the aeronautical sector, as it optimizes security at airports to prevent possible incidents
Main applications
During the pandemic, infrared thermal imaging became an essential tool to assess people's body temperature and prevent the spread of the virus. This technique, based on the measurement of infrared radiation emitted by the human body, allowed people with a fever to be identified to locate possible infection foci.
However, outside of its medical use, thermal imaging is also used in the evaluation of infrastructure, focusing especially on three types of irregularities:
Electrical: Any additional resistance or anomaly in wiring or switchgear, which shows up as overheating detected by the thermal camera.
Thermal: failures in furnace insulation, accumulator tanks, lines, and even buildings, can be evaluated by infrared thermal imaging.
Fluid leaks at a different temperature than room temperature: detected under favorable conditions.
As the expert explains, this type of technology was applied to large electrical equipment located in substations. Subsequently, its scope of use was systematically expanded in medium voltage, although it claims that it could also be used in low voltage applications, including domestic applications, such as moisture detection, water infiltration or energy losses.
Among the most effective uses of thermal imaging is in the aeronautical sector, as it optimizes security at airports to prevent possible incidents, the detection of faults at facilities and engines or the prevention of fires. Rafael Royo points out that infrared thermal imaging is also applied to aircraft maintenance for its speed and ease, and manufacturers have implemented protocols for the inspection of aircraft parts.
Greatest challenges to face
"The greatest challenges facing infrared thermal imaging today have to do with its use in metal materials and concrete, to detect anomalies without having to perform destructive testing," says the teacher.
This is because these materials have a high thermal conductivity, making it difficult to detect small temperature variations. To overcome this, the most appropriate thermal source for each case must be determined, as it may influence the ability of this technique to detect anomalies. Taking concrete as an example, temperature variation due to solar variation can be used to perform thermal imaging.
"Regulating traffic can be improved by thermal sensors that report the presence of vehicles or pedestrians"
Regarding its use in the medical field for the detection of surface anomalies, its application is still limited due to the need for high quality equipment, standardized protocols and personnel specialized in the interpretation of thermal images. However, it has great potential as it is a safer and more comfortable option for the patient than other imaging techniques, as it does not emit ionizing radiation and is not invasive.
Finally, the specialist talks about how he sees the future of this technology, stressing that, thanks to the development of low-cost thermal sensors, the number of applications should be increasing. "It's a problem of technique knowledge and its possibilities by professionals. I anticipate that in the near future, it will be applied en masse in the automotive sector, to improve the active safety of the vehicle and in certain internal areas. For example, regulating traffic can be improved by thermal sensors that report the presence of vehicles or pedestrians," he concludes.
Contributor to this article…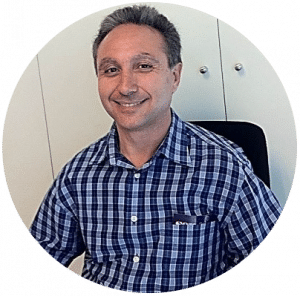 Rafael Royo Pastor
(Valencia, 1962) is a Doctor of Industrial Engineering from the Polytechnic University of Valencia (UPV), where he is a tenured professor.
He has taught Thermal Engineering related courses since 1987 at the UPV's Higher Technical School of Industrial Engineering (ETSII): mainly Thermal Motors and Heat Transmission. Since 2009, he has been on the faculty for the Official Master's Degree of the Institute of Energy Engineering of the Polytechnic University of Valencia in Sustainable Development, teaching the subject "New energy technologies for buildings. Nearly Zero-Energy Building." He has been a manager with the UPV Collaboration Project with the Renault Spain Studies Department from 1993 to 2011.
Since 2000, it has been continuously active in the field of infrared thermal imaging, both from a training and research perspective in advanced applications. He is a lead trainer at the Infrared Training Center in Spain, associated with Flir Systems, Level 3 in thermal imaging by the ITC and by the Spanish Association for Non-Destructive Testing (AEND). He has given multiple national and international lectures on both motors (SAEs) and applications in infrared thermal imaging (Inframation) and building efficiency. Since 2022, he has been Deputy Director of Quality and Accreditation of the ETSII.