Drones and advanced image data analytics are highly valuable for risks management and mitigation processes in mining environment for insurance companies but can also be replicate to other industries such as oil and gas, construction, automotive or iron and steel to only name a few. This article explores its benefits through the MAPFRE joined Proof of Concept project with PwC Spain and PwC Drone Powered Solutions – the global center of excellence of PwC dedicated to drone technology and advanced image data analytics, focusing on the mining sector.
Nowadays, Insurance companies are facing new challenges arising from the capacity to cover heavier insurance claims, in a shorter time span and more accurately as natural disasters intensify in the last decades in terms of unpredictability, frequency and severity. Two main consequences can be derived from these above mentioned challenges. The first one is that insurance companies are often pooling to insure large customers because of the raising uncertainty and thus risk. The second one is that in a more and more digitized world, insurance companies need to be equipped with the right tools to take the right data-driven decisions regarding the assets and companies they choose to insure in a shorten time span.
Drone technology presents a number of benefits for insurance companies and stands out as a trusted ally when it comes to gathering, measuring, and quantifying high quality, indisputable data. As a result, aerial image and resulting 3D data is one of the most prospective tools to prevent and mitigate risks. Besides, depending on use cases and size of the area to assess, drones, satellite imagery or alternative platform such as helicopters or plane are often proven to be useful.
To secure a leading position in digital era, MAPFRE started to investigate potential gains from the introduction of aerial data for global risks assessment and mitigation to replace traditional, less effective methods as well as to improve claim handling processes. Therefore, MAPFRE conducted a joined Proof of Concept project with PwC Spain and PwC Drone Powered Solutions – the global center of excellence of PwC dedicated to drone technology and advanced image data analytics, focusing on the mining sector.
Claims involving mining are often characterized by high intensity of losses influencing the entire value chain. Mitigating and having a better control on risks related to landslides, earth movement, equipment and people safety as well as work continuity are critical for effective understanding and the right insurance of mining operations. The project revealed the disruptive potential of data generated with the use of drones and advanced images analytics for the mining sector and beyond.
How 2D images are transformed into accurate 3D models?
Before going any further let's look at the technology itself. A drone or Unmanned Aerial Vehicle (UAV) is a remote sensing platform which can be equipped with a number of sensors used to capture aerial data. Although a drone can be equipped with multiple sensors such as laser scanners or thermal cameras, most of the projects such as asset inspections or mapping will require a high resolution digital cameras.
But the hardware itself is just a small piece of the overall story. Where it gets interesting is when drones are combines with the science of so called photogrammetry, that enables transforming 2-dimensional images into 3D engineering models. For that purpose, hundreds of overlapping images taken by drones will be processed to create technical products such as 3D point cloud and orthophotomaps with up to 1cm resolution and accuracy at the level of highly accurate geodetic survey (cf. figure 1 below).
Where the insurance sector can benefit from the use drones today?
Several use cases based on drone solutions and image data analytics are already investigated or implemented by insurance companies today to mitigate risks and keep control over costs for claim handling. Flood modelling, assets valuation, assessment of hard to reach areas and mapping of damages after a storms are some of the most relevant use cases to begin with.
Flood modelling based on drone data enables highly accurate flooding simulations for specific facilities.
With the increasing number and unpredictability of natural disasters, floods tends to occur in unexpected locations with more severity. Most of the flooding models are currently based on state or local government's data with low level of detail.
Advanced water flow modeling algorithms can power accurate flood simulations at the plant or factory level. With that granularity of information, insurance companies get detailed data that help them understand what would be the risk for key assets and operational continuity.
Aerial assets inspections for valuation and condition assessment prevent discontinuity of operations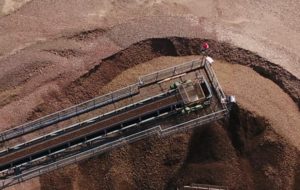 Currently assets valuation is conducted manually, may require to shut down the operations and expose field teams to risks. Drone technology together with image data analytics and enable faster, safer analysis of the number of and the quality of fixed assets. AI models are able to detect equipment failure modes to prevent costly discontinuity of operations. Consequently, insurance companies have a better control on operational risks based on assets condition estimation while protecting their teams on the field.
Remote assessment of hard to reach areas
Many insured facilities are spread around the world often in hard to reach and dangerous places. Drone data captured by 3rd party providers can be used to assess the site remotely and/or to provide data where access of people is risky and difficult such as steep slopes or unstable terrain.
Mapping and assessment of property and areas damages after storms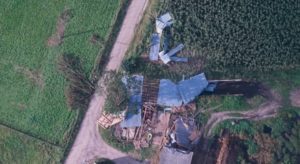 After a storm, there is a need for quick assessment to proceed with claims handling processes. The highly detailed and accurate documentation gathered from aerial data make drone the best remote tool to quickly deploy and map an area or assess properties after natural disasters for damages estimation purposes. The documentation based drone mapping can reduce assessment time and therefore time of claims handling process.
To sum up, drones and aerial data are not a fancy idea for the future but a tool already used by major players in insurance industry to mitigate risks and secure long term position in the market.
In a nutshell, the use of drone technology together with advanced image analytics bring several benefits to insurance industry such as:
MAPFRE together with PwC conducted a PoC that proved high potential of drone technologies in insurance
Together with PwC Drone Powered Solutions and PwC Spain, MAPFRE performed a proof of concept to reveal the value, usefulness and feasibility of drones and advanced image analytics as a method to enhance the processes for insuring MAPFRE's clients in the mining sector. Drone operations were performed over waste area in southwestern Spain. Application of drones and advanced image analytics in MAPFRE processes have been applied to perform automated, complex spatial analysis for monitoring of terrain slopes and identification of high risk areas.
The scope of the project included photogrammetric drone flights over a mining area to collect image data from terrain slopes for processing and analysis purposes. Consequently from the flights, 3D models with accuracy up to 1 cm pixel size have been created. Then, PwC DPS team carried spatial analysis based on photogrammetric products for generation of slope map and danger assessment map. Finally, the project team applied advanced geospatial data analytics and generated both slope and danger assessment maps where advanced analytics and measurements can be easily conducted by insurance teams.
Thus, the PoC revealed MAPFRE processes would benefit from the integration of drone technology and advanced image analytics to secure both operational and financial benefits in the future.
As a result, the project team strongly believes that drones and advanced image data analytics are highly valuable for risks management and mitigation processes in mining environment for insurance companies but can also be replicate to other industries such as oil and gas, construction, automotive or iron and steel to only name a few.
Embrace drone technology to influence and bring change to the insurance industry
Insurance industry needs to innovate and bring data at the center of its focus to overcome new challenges, keep control on costs while securing long term profits. Several companies are already paving the way and are integrating drone technology into their processes. Therefore, there is a huge potential for drone technology and advanced image data analytics to deeply transform process across the entire MAPFRE global organization and unlock new business opportunities. The initial piloting and resulting business cases are critical to prove the value of the technology and methods to key stakeholders. The pilot project team believes that in the long-term, leveraging synergies between sectors and territories, will bring even more value and benefits to MAPFRE and their clients.
A full digital transformation of insurance industry is at stake to benefit from emerging technologies such as drones and more and more from artificial intelligence. Companies would need to adjust their IT systems, to integrate cloud solutions and data fusion between departments will be crucial. However, when insurance companies will unlock this potential, they will open a new chapter for their industry.
About PwC Drone Powered Solutions
PwC Drone Powered Solutions (DPS) is a PwC global center of excellence for drone technologies and image data analytics established since 2015 in Poland. Next to technology and operations consulting we provide strategic and regulatory consulting for wide scale of drone related projects. Our team is composed of photogrammetry engineers, Machine Learning experts as well as experienced strategy consultants and has a unique expertise in the area of commercial applications of drone technologies. Leveraging our knowledge, we regularly publishes reports and articles to provide thought leadership about the industry.
This center of excellence works very close to the local PwC ( such as PwC Spain ) to deliver the best results combining business experts in the local markets with the most experience resources in these technologies.
To know more: https://www.pwc.pl/en/drone-powered-solutions.html and http://www.pwc.es