Dangerous goods transportation is faced daily with events such as accidents, environmental impact or compliance with international regulations. At the Maritime University of Panama, they talk to us about logistics and their great challenges.
Marine transport of dangerous goods involves the transport of substances or materials that pose significant risks to safety, health and the environment due to their intrinsic characteristics. They can range from flammable and toxic chemicals to explosives or radioactive materials. To ensure safety in this type of transport, international regulations are designed to minimize associated risks and protect people and the marine ecosystem.
In regions such as Latin America, this represents additional challenges due to the diversity of geographic, climate and economic conditions. Moreover, extensive shorelines and sea routes, along with the presence of major ports, make this area a key transit point for international trade. However, these countries face particular challenges in port infrastructure, personnel training and compliance with international regulations.
The Director of Public Relations at Panama International Maritime University (UMIP), Omar Wong, explains that as the region grows, the production and transport of chemicals and hazardous substances increase. This underscores the need for continual improvement in risk management and security.
"When it comes to challenges, the transport of dangerous goods, the safety of people, the sea, the environment and the vessel are crucial aspects that must be taken extremely seriously. The possibility of accidents or spills with devastating consequences makes it imperative to implement in our academic schemes the comprehensive protocols and regulations that the industry has to prevent and manage those emergencies," the specialist says.
Challenges and Development Opportunities
The UMIP expert indicates how the regional maritime industry and industry-related companies are implementing a number of measures to address challenges and refine response to possible Dangerous Goods incidents. All of this must be in full alignment with the regulations established by the International Maritime Organization (IMO).
"We feel that, among the priorities, something that stand out is great concern about the training and education of personnel in the safe handling of goods, which is in compliance with the IMO training guidelines. These outline the specific requirements for training personnel in essential skills such as transport, handling and storage of these goods," he says.
He also highlights the importance of incorporating advanced technologies and specialized equipment, as it involves the implementation of real-time monitoring systems, hazardous substance detection sensors and spill control equipment (such as the use of drones). He also emphasizes the need for companies to develop incident response plans in collaboration with port authorities and emergency services, ensuring efficient response in critical situations.
"The maritime industry in Latin America regards collaboration as a key element, especially of international organizations, universities, port authorities and other relevant agents, since, through this interaction, best practices and related experiences are shared, promoting safety in all its aspects," he says.
The Advances of Latin America
Wong explains how Panama has played a key role in collaborating with other countries in the region to address challenges and improve security in shipping goods. Through its strategic position as one of the main logistics and maritime centers in Latin America, it has led cooperation efforts that have contributed significantly to the safety and efficiency of maritime transport in the region.
"The country's port infrastructure, especially with the Panama Canal, plays a critical role in connecting and flowing goods across the region. These facilities are used as transit and distribution points of dangerous goods between them. Their efficient management contributes to the safety and good flow of sea transport," according to the expert.
In that context, the UMIP also appears as a crucial agent, especially in research and development in critical areas of maritime safety, such as hazardous substance management and accident prevention technologies. The objective is to improve existing practices and share this knowledge with other universities. In addition, it has adopted several technological initiatives and advances, highlighting the acquisition of new and modern simulators, which enable the realistic and virtual recreation of the scenarios related to navigation.
"This includes dangerous goods emergency situations such as chemical spills or fire incidents. Students and professionals can practice response, decision-making and coordination protocols to effectively manage it. They can also recreate the operations for loading, unloading and handling dangerous goods by helping operators become familiar with safe and efficient handling practices, as well as identify potential risks and problems," the expert concludes.
Contributors to this article: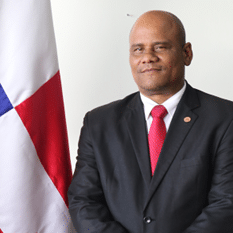 Omar Wong Wood is the current Director of Communication and Public Relations at the Panama International Maritime University.
A Journalism and Social Communication Professional, he has a long history of objectively analyzing and synthesizing political, economic, social and cultural events in order to establish strategies in areas as significant as the maritime transport of dangerous goods.