OPEC, the Organization of Petroleum Exporting Countries, controls between 35 and 40% of the global crude oil market while collectively its 15 members hold 82% of the world's oil reserves. But who's who in OPEC? What gives this block the strength to keep 15 countries united in a common cause?
OPEC statutes lay down that the objective of the organization is to coordinate and unify oil policy among member states; to guarantee fair and stable prices for oil producers; efficient, affordable and regular supply of oil to consumer countries and a fair return on investor capital.
OPEC was created in 1960 by Iran, Iraq, Kuwait, Saudi Arabia and Venezuela. The importance of this organization of producers currently hinges on its control of oil output policy to offset drops in the price of oil.
This international petroleum organization checked a drop in crude oil prices that started toward the end of 2014, and ultimately touched as low as 25 US Dollars per barrel in several markets. Meanwhile, Brent crude, the most expensive oil on the market, which is extracted from the North Sea and traded in London, fell as low as 42.76 US Dollars per barrel.
Today, OPEC is a major market player thanks, in part, to its convening power, having convinced 11 independent oil producers to submit to production restriction measures. These countries include Russia, the largest oil producer in the world; Mexico, which is undertaking a new venture with its energy reform measures; and Azerbaijan, Bahrain, Brunei, Equatorial Guinea, Kazakhstan, Malaysia, Oman, Sudan and South Sudan.
OPEC controls between 35 and 40% of the global crude oil market, extracting 32.327 billion bpd.
Another of its clear strengths is that together the cartel's 15 member states hold 82% of the world's oil reserves. The most recent calculation indicates that OPEC controls 1214.21 billion barrels out of a worldwide total of 1482.77 billion barrels in situ.
Venezuela holds the largest oil reserves in the world. Official figures of the Department of Oil and Mineral Resources verify that the South American country has 302.810 million barrels in proven reserves. The second largest producer is Saudi Arabia, with 266.260 billion verified barrels, while Iran, which adds 155.600 billion barrels to the petroleum group, is in third.
Industry analysts insist that one of the factors that benefits OPEC strategy as a whole is that decisions are made by consensus, as stated in the block's statutes.
"The importance of this producers organization currently hinges on its control of oil output policy to offset drops in the price of oil."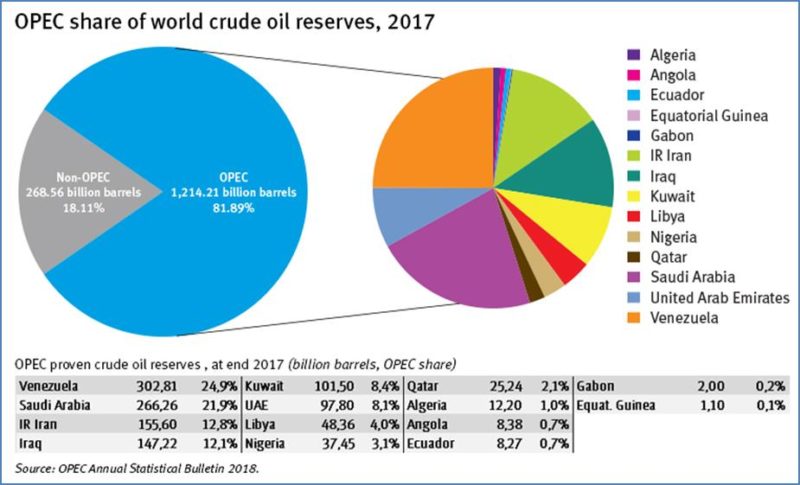 OPEC exports supply the United States with more than 3.5 billion bdp. Still, output has undeniably contracted from the 6.415 billion bpd supplied in January 2008.
But who's who in OPEC? What gives this block the strength that has kept 15 countries united in a common goal for nearly 58 years?
Who's who in OPEC: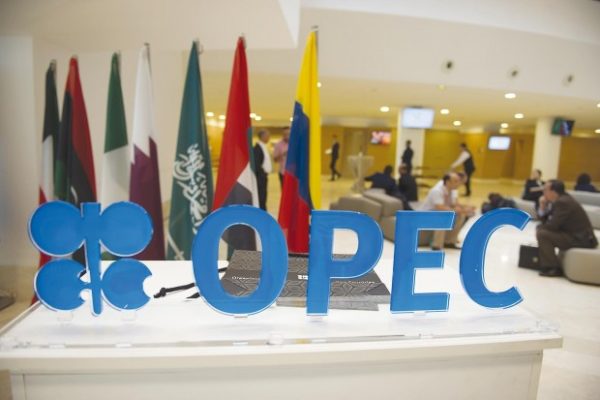 Saudi Arabia
The world knows that OPEC is led by Saudi Arabia, whose power and influence are indisputable.
Saudi Arabia, which has the second largest proven oil reserves in the world, is also the second largest supplier of crude oil to the United States, accounting for 11% of total crude that the North American giant imports on a daily basis.
Iraq
Iraq is the second largest producer of crude oil in OPEC after Saudi Arabia and besides that has the fifth largest proven crude oil reserves in the world after Venezuela, Saudi Arabia, Canada and Iran. Most of Iraq's main oil fields are producing or are under development, although a large part of its known hydrocarbon resources have not been fully developed yet.
The Middle Eastern nation is the third largest supplier of crude oil to the United States, representing 10% of total exports. Last April, sales to the North American power were 834,000 barrels per day.
Iraq is still in the process of re-developing its oil and natural gas reserves after years of sanctions and wars. Production of Iraqi crude oil grew by nearly 1.5 million barrels per day (b/d) over the last five years, increasing from 2.6 mbpd in 2011 to nearly 4.1 mbpd in 2015. Currently, it pumps around 4.533 mbpd, according to OPEC's July report.
Iraq is a net producer of crude oil.Indeed, it depends on revenue from oil sales to finance up to 95% of government spending. Consequently, drops in oil prices have a direct impact on its domestic economy.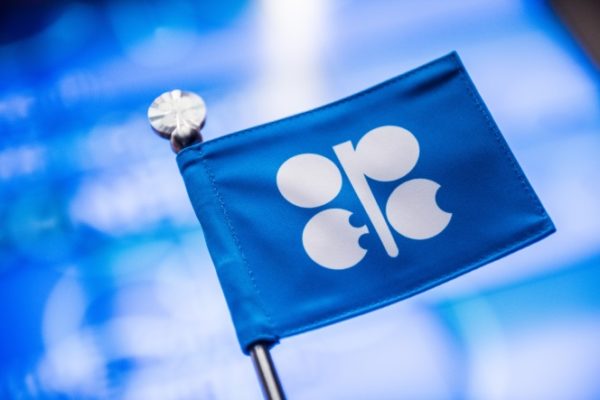 Iran
Iran has the fourth largest crude deposits in the world, with 155.6 billion barrels of crude oil, and the second largest natural gas reserves on the planet. Despite its extensive oil reserves, Iran's oil production has suffered due to lack of investment and the effects of international sanctions.
Natural gas production has increased but growth has been less than expected. Since the lifting of sanctions against Iran, oil production reached more than 3.8 mbpd in 2017. So far in 2018, it has maintained these levels.
United Arab Emirates (UAE)
The United Arab Emirates, made up of seven small nations ruled by emirs, have the sixth largest crude oil reserves in OPEC, with 97.8 billion barrels. Meanwhile, the Emirates are the fourth largest producer in the petroleum block, pumping 2.897 mbpd.
At the global level, they are seventh among the 10 largest oil producers in the world. The United Arab Emirates have been members of the Organization of Petroleum Exporting Countries since 1967.
Since their independence from Great Britain and their union in 1971, the UAE, made up of Abu Dhabi, Ajman, Al Fujairah, Dubai, Ras al Khaymah, Sharjah and Umm al Qaywayn, have relied on their oil and natural gas resources to support their economies.
In addition to the country's significant hydrocarbon economy, the UAE is becoming one of the world's most important financial centers, as well as an important commercial center in the Middle East.
In June, the UAE was the second largest supplier of oil to Japan, with a market share of 21%.
Kuwait
Within the OPEC nations, this Middle Eastern country has the fifth largest oil deposits. Its proven reserves are estimated at 101.500 billion barrels in situ. Kuwait extracts 2.731 mbpd, making it the fifth largest producer in the oil cartel.
Kuwait's economy depends to a large extent on revenue from oil exports, which represent more than 70% of total government revenue.
Kuwait is intent on remaining one of the major oil producers in the world. Consequently, the country has set itself the goal of increasing its crude oil and condensate production to 4 mbpd by 2020. These planned production goals include expanding production in the Neutral Zone, which has been closed since the fourth quarter of 2014 due to a disagreement with Saudi Arabia.
However, Kuwait has struggled to boost oil and gas production for over a decade because of delays in initial projects and insufficient foreign investment.
Kuwait's per capita GDP, adjusted for exchange rates, was nearly 70,000 US Dollars in 2017. This makes it one of the ten richest countries, exceeded only by Qatar in the Arab world, according to International Monetary Fund estimates.
"The OPEC controls 1214.21 billion barrels out of a worldwide total of 1482.77 billion barrels in situ."
Nigeria
Nigeria is the largest oil producer in Africa. It holds the eighth largest crude oil reserves among OPEC member nations. Its calculations indicate that 37.48 billion barrels are underground.
Nigeria is the sixth largest oil producer in the block, extracting 1.7 mbpd.
The African nation was one of the first to suffer the hardships caused by the dizzying increase in shale production in the United States, which not only caused crude oil prices to plummet but also decreased the demand for Nigerian oil as well as oil from many other countries. In one fell swoop, Nigeria went from supplying 1.347 mbpd in November 2007 to exporting 21,000 bpd in 2015. Today shipments are no more than 160,000 bpd.
The Nigerian government has made an effort to diversify its economy, with the aim of lessening its excessive dependence on oil as a source of revenue.
Nigeria's endangered finances, which depend on more than 70% from oil revenues, shrunk dramatically after the long period of low prices.
Angola
Angola also relies upon oil revenues to keep its economy afloat. The African nation, an OPEC member since 2007, extracts 1.431 mbpd, making it the seventh largest oil producer in the petroleum organization.
Angolan crude oil deposits are modest. OPEC data show that Angola has only 8.384 billion barrels in situ, which puts it in eleventh place.
Venezuela
Venezuela, the native country of one of the founding members of OPEC, Juan Pablo Pérez Alfonso, and a major oil producer with the largest crude reserves in the world, is going through a rough time.
The South American country is the eleventh largest producer in OPEC. Barely two years ago, it was the sixth largest and competing for a spot among the four leading oil producing powers in OPEC.
Venezuela, which became influential within the oil cartel, today is only capable of extracting 1.340 mbpd, a far cry from the 3.4 mbpd that it produced in 1998, and thethe 2.150 mbpd that it was pumping as recently as 2016.It is believed that 30.28 billion barrels in reserves are still underground.
"Collectively, its 15 members hold 82% of the world's oil reserves."
Algeria
The Algerians are the most recent oil producers to surpass one million barrels. Algeria produces 1.04 mbpd while its reserves consist of only 12.2 billion barrels.
Data from the U.S. Energy Information Administration suggest that Algeria is the main producer of natural gas in Africa, the second largest provider of natural gas in Europe, and one of the three main oil producers in Africa.
It is estimated that Algeria has the third largest amount of shale gas resources in the world. However, overall production of natural gas and crude oil has decreased gradually over the last decade, primarily because new production and infrastructure projects have stalled repeatedly.
Other producers
Other producers include Libya (708,000 bpd); Qatar (603,000 bpd); Ecuador (519,000) bpd; Congo, the most recent member of the group (331,000 bpd); Gabon (190,000 bpd) and Equatorial Guinea (126,000 bpd).
These oil-producing nations, which together produce 2.477 billion barrels per day, by no means a negligible amount, have sought refuge within OPEC.
An OPEC member since 1962, Libya holds the largest proven crude oil reserves in Africa, with 48.36 billion barrels.Additionally, its proven natural gas reserves are the fifth largest in Africa.
Qatar, for its part, has crude deposits amounting to 25.24 billion barrels.Oil and natural gas represent a significant part of the country's GDP.As a result of oil, Qatar is one of the fastest growing countries and has the highest per capita income.
Finally, Ecuador, along with Venezuela, is the only other OPEC member from South America. Ecuador, which after leaving the cartel, returned in 2007, has only 8.270 billion barrels in crude oil reserves. For several years now, its production has hovered around 500,000 bpd.